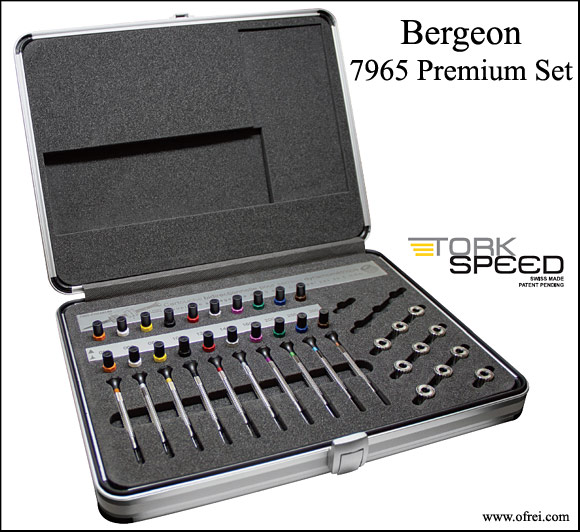 Bergeon 7965 Series Screwdriver & Dynamometric Cylinder Set in Aluminum Case
Premium suitcase in aluminium set comes with 10 screwdrivers with special profile (Sizes: 0.50 mm, 0.60 mm, 0.80 mm, 1.00 mm, 1.20 mm, 1.40 mm, 1.60 mm, 2.00 mm, 2.50 mm and 3.00 mm), tube with 2 stainless steel replacement blades for each screwdriver size, tube with 1 HSS curvature blade for each screwdriver size and 10 dynamometric cylinders (10 nmn, 15 nmn, 20 nmn, 25 nmn, 30 nmn, 35 nmn, 40 nmn, 45 nmn, 50 nmn and 55 nmn).

Handle made of stainless steel with special profile compatible with the 7965-C series cylinder.
Tube with 2 conical blades made of hardened stainless steel 54HRC reference 6899-T.
Tube with 1 parallel blade reference 6895-M, per diameter.
Head made of synthetic material POM self-lubricant.
Can be used also without dynamometric cylinder.
Ø from 0.50 mm to 3.00 mm
10 exchangeable dynamometric cylinders
Stainless steel.
Compatible with all specific. screwdrivers reference 7965-…
Preset, fixed torque: from 10 to 55 mNm.
Bidirectional.
Can be positioned on the whole length of the screwdriver
Possibility to mount 2 cylinders, one for screw control, the other for unscrew control.


Special order item. Please allow 4-6 weeks for delivery.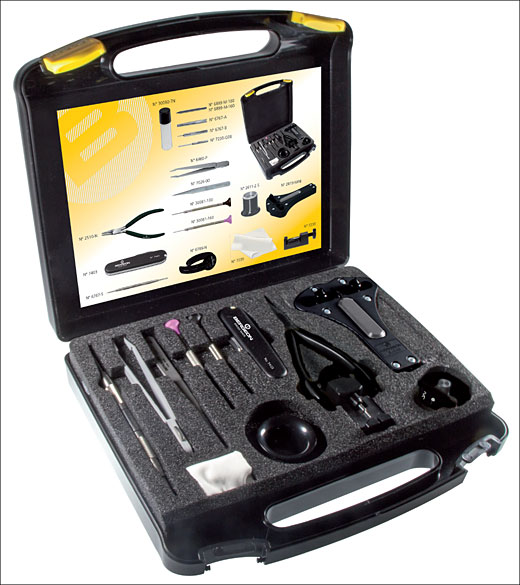 Bergeon's 7812 Quick Battery and Bracelet Service Kit in Hard Case
This set is a Jewelers dream for watch battery replacing and for bracelet changing and sizing. Comes with 18 specialized tools and accessories in a hard plastic travel case. Everything you need to open cases, install batteries along with all you need to size, install and remove bracelets: Steel spring bar tool (6767-S), jaxa mini case wrench with square pins (2819-MINI), watchmakers pocket/case knife (7403), 4x eye loupe (2611-2.5), non-magnetic tweezer #00 (7026-00) 2 stainless screwdrivers and replacement blades 1.00mm and 1.60mm (30081-100, 30081-160, 6899-M-100, 6899-M-160), plastic battery tweezer with steel lip (6460-P), screw type bacelet pin remover (7230), flat nose plier (2510-N), microfiber cleaning cloth (7039), flexible bracelet gauge (6789) 1 spare fork tip for spring bar tool 6767-S (6767-A) , 1 spare pin tip for spring bar tool 6767-S (6767-B), 1 plastic tube (30080-TN).

Click here to order the tools individually.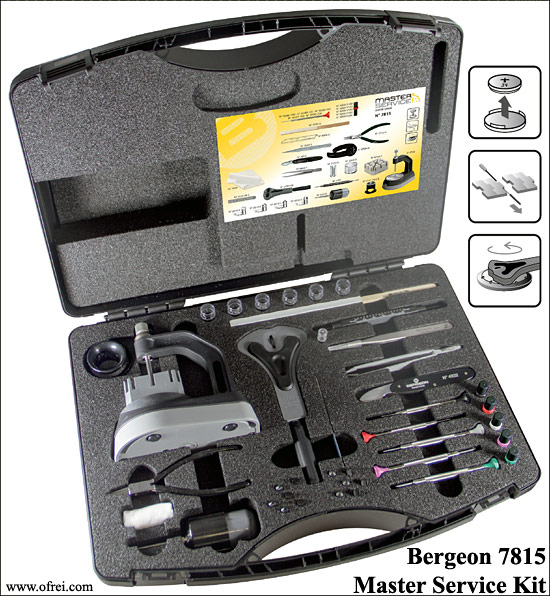 Bergeon's 7815 Master Service Set in Hard Case
This master service set is truly a must have set for watch battery service, watch bracelet changes, length setting, opening and closing of screwed waterproof watch back covers. Comes with 46 specialized tools and accessories in a hard plastic travel case:
Full size Jaxa case wrench (Bergeon 2819-08), 4 sets of 3 bits for the Jaxa case wrench (Bergeon 2819-A, 2819-B, 2819-C, 2819-D), multifunction bracelet press (Bergeon 8745), bracelet holder block (Bergeon 6744-P), 4x loupe (Bergeon 2611-TN-2.5), plastic tweezers with steel lip (Bergeon 6460-P), anti-magnetic, stainless steel tweezers (Bergeon 7026-1), 5 stainless steel screwdrivers 1.00 mm, 1.20 mm, 1.40 mm, 1.60 mm and 2.00 mm (Bergeon 30081-100, 30081-120, 30081-140, 30081-160, 30081-200), 5 tubes with 2 spare screwdriver blades (Bergeon 6899-T Ø1.00 mm, 1.20 mm, 1.40 mm, 1.60 mm and 2.00 mm), snap back case knife (Bergeon 4932), flat nose pliers (Bergeon 2510-N), microfiber cloth (Bergeon 7039), flexible measuring band for wrists (Bergeon 6789-N), spring bar tool (Bergeon 3135), spare pin & fork ends for 3135 spring bar tool (Bergeon 3153-R), leather buff stick with buff protector (Bergeon 1282A & 4056-6), steel ruler (Bergeon 2819-08-R), 6 plastic boxes Ø15 x 30mm (Bergeon 2963-B), and dust blower (Bergeon 30540)

Click here to order the tools individually.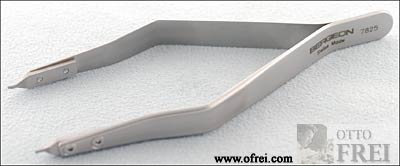 Bergeon 7825 Extra Fine Forked Tweezers to Fit Spring Bars
| | | |
| --- | --- | --- |
| | Spring bar fitting tweezers with extra fine tips measuring at 1.00 mm diameter. This tool is great for bracelets with small spring bar openings. Allows to take off the bracelet from the watchcase without removing the clasp. | |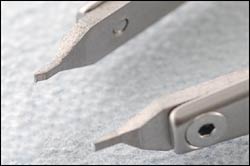 Replacement Tips Bergeon 7825 Extra Fine Forked Spring Bar Tweezers, Sold Per Pair
| | | |
| --- | --- | --- |
| | Pair of replacement extra fine tips measuring at 1.00 mm diameter for the Bergeon 7825 Tweezers for removing and installing spring bars.. | |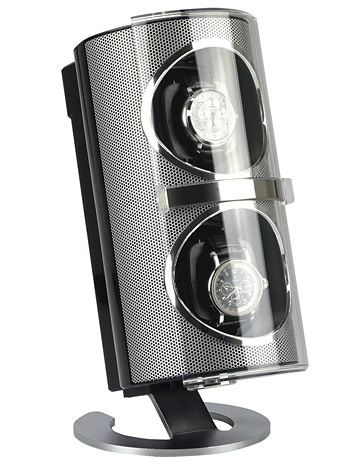 Watch Winder for 2 Watches MSA 19.349
Watch winder for 2 watches. Noiseless, reliable and has a modern design with large transparent lid. Winds clockwise, auto (bi-directional) and counter-clockwise. AC adapter included.

Features 4 different modes:
Mode A: 650 Turns Per Day, 13 cycles, each cycle turns 50 times then rests. Each cycle takes 110 minutes.
Mode B: 900 Turns Per Day, 18 cycles, each cycle turns 50 times then rests. Each cycle takes 80 minutes.
Mode C: 1200 Turns Per Day, 24 cycles, each cycle turns 50 times then rests. Each cycle takes 60 minutes.
Mode D: 1500 Turns Per Day, 30 cycles, each cycle turns 50 times then rests. Each cycle lasts 48 minutes.

Dimensions: 135(W) x 289(H) x 225(D) mm.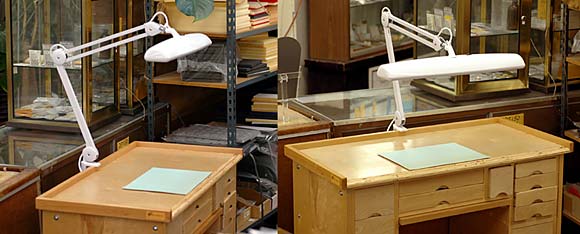 $79.95
High Power Energy Efficient Fluorescent Desk Lamp
Every Watchmaker's work bench should have one of this lamp. It gives more than enough light to cover your benches surface.

It uses three T5 14W fluorescent light bulbs, comes with electronic ballast and On/Off switch. The dimension of the piece are 91cm (35.8 inches) arm length, 61cm (24 inches) head length, and 11cm (4.3 inches) head width. The color is white and uses 110V/60Hz voltage.
Replacement T5-14W-6400K 21-1/2" Long Fluorescent Bulb for Desk Lamp FB-13.110
Watchmaker's Hand-Held EMD 28 Metal Detector
The hand-held metal detector detects both ferrous (iron/junk) and nonferrous (coins/gold) metals. Sensitivity is adjustable. It can also locate metal objects in camouflaged hiding places such as luggages, mail and parcel consignments, walls, hollow spaces and in the soil.


Every watchmaker must own this hand-held metal detector to make searching watch parts easier. You no longer need to spend hours on the floor with a flash light searching for missing parts; with this hand-held metal detector, searching for missing metal watch parts will take only seconds.


Although this tool is made for watchmakers, you don't need to be one to use it. This metal detector can be used by everyone of all ages.


Why spend hundreds of dollars for one, when you can get one here for only $89.95.


Perfect for the kids at the beach or even the camp site. It's so light weight and small in size, you can bring it anywhere.


Still looking for the perfect gift? Well, you found it! This is a great gift, so act now and get yours today while supplies last.


Model EMD 28
Battery Type: 9 Volt
Weight: 230g or 1/2 pound without battery, six-tenths of a pound with battery.
Dimensions: 395mm or 15 3/8 inches (operation), 260mm or 10 1/4 inches (storage). Search Head can be folded back to the handle bar for easy storage.
Diameter of Search Head: 140mm or 5 1/2 inches.


Battery not included, but we do offer it in our Watch Batteries & More page.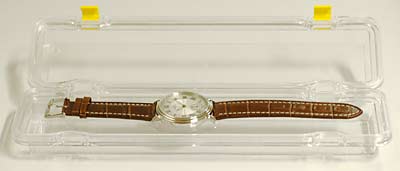 Watch Protection Storage Case
| | | |
| --- | --- | --- |
| | Clear hard plastic housing to protect your most treasured watch piece and perfect for display. It features two membrane film that holds your valuable securely without any slipping or shaking. Flips open smoothly for easy access. Equipped with two locking mechanism to lock the box in place. A great watch protection storage case for all watchmakers and collectors alike. Fits nicely in your luggage during travels with size of only 300 x 75 x 25 mm. | |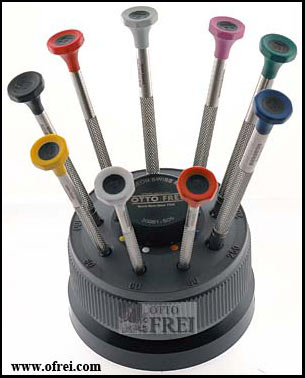 $109.00
Bergeon 30081-S09 Nine Piece Stainless-Steel Screwdriver Set with Rotating Stand
The Bergeon 30081-S features 9 Stainless Steel screwdrivers and spare blades. The color-coded swivel head makes it easier for size recognition. Comes on a nine slot rotating stand that keeps your screwdrivers organize.

Sizes of the screwdrivers are 0.50, 0.60, 0.80, 1.00, 1.20, 1.40, 1.60, 2.00 and 2.50mm. Includes 9 spare blades. Swiss made.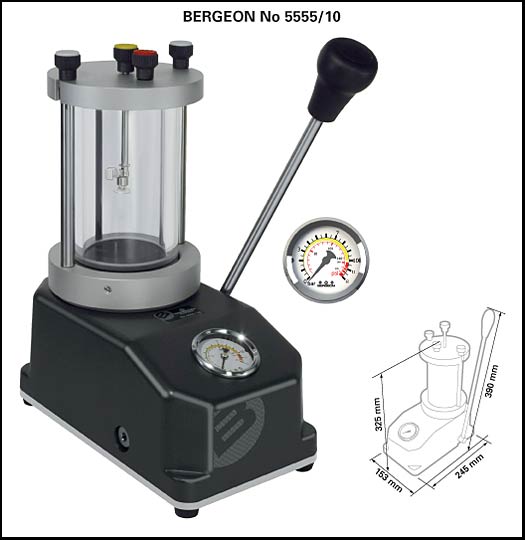 $1,249.95
Bergeon 5555/10 Waterproof Wet Case Tester 10ATM
| | | |
| --- | --- | --- |
| | This is the newest waterproof case tester from Bergeon. The Bergeon 5555/10 can waterproof test to 10ATM (100 meters - 330 feet). The Bergeon Wet Waterproof tester allows you to see where the leak is coming from on the watch case. Fill the cylinder with water up to the indicated level. It is preferable to use distilled water in order to avoid limy deposit. Hang the watch on the plunger above the water line, seal the jar. Raise the pressure in the jar to preferred ATM with the pump handle. With the case under pressure before entering the water, when lowered into the water if you have any leaks only air bubbles will escape from the watch. No water will get in before you have chance to spot the leak and remove the watch from the water. The Bergeon 10ATM tester 5555/10, features a removeable cylinder for easy draining, pump handle to manually increase pressure, can hold up to 2 watches at a time, and tests water resistance from 0 - 10 ATM. This waterproof tester can also be connected to a compressor or external pump using the optional connector kit 5555/10-R (sold separately). Dimentions: 390 x 245 x 153 mm from base to tip of handle. Cylinder diameter is 70 mm. | |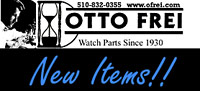 New Arrivals

Screwball Case Opener


Watch Makers Hand-Held Metal Detector
The EMD 28 Metal Detector $89.95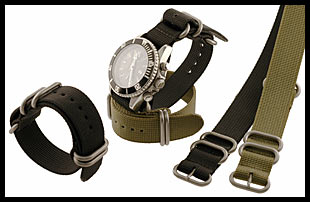 NATO Straps Leather & Nylon
Nato straps and watch bands in Leather and Nylon

Dumont Style O Tweezers
These are a limited supply close out Swiss Made Pattern O Dumont Inox. Tweezer length is 115 mm/4.531 inch, tips are 0.1 mm by 0.17 mm at the points.


CLOSE OUT SALE PRICE!