<![if !supportEmptyParas]> <![endif]>
History of Otto Frei
Otto Frei
Switzerland, 1924
I n 1930 Otto Frei, a master Watchmaker, and his wife Alice, a renowned hairspring vibrator, began making & selling watch parts and repairing watches in San Francisco. In search of warmer weather they soon moved across the bay to Oakland,
where the company headquarters is located to this day. Under the leadership of Otto and Alice's son, John Frei Sr., the company became the leading watch material supply house west of the Rocky Mountains.  John Sr., retired in 1989 since then Bob Frei has been running the material department.
Over the years, the company expanded its line of tools & supplies for the precision industries. Many renowned scientists, including those who help developed the first LED & LCD electric watches, are customers of Otto Frei. The company is still known around the world simply as Otto Frei.
T oday, the grandsons of Otto & Alice Frei have continued the family tradition of fast and friendly service, while expanding the product lines and services to meet the needs of the always changing watch, jewelry, and precision industries. Along with watch and clock tools and materials, we offer crystal fitting services, a complete line of jewelry tools and supplies, a large selection of jewelers findings, as well as watch bands, boxes and displays. If you are in the San Francisco Bay Area please drop by and visit our main warehouse in Oakland.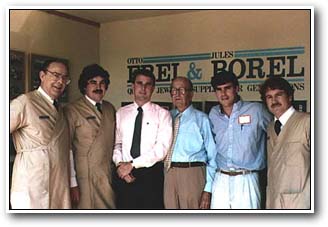 Three Generations - 1987
Today's Staff at Otto Frei
<![if !supportEmptyParas]> <![endif]>
<![if !supportEmptyParas]> <![endif]>


Home | About Us | Specials | Contact Us | Search
CopyrightŠ 2000-2015, Otto Frei, All Rights Reserved
Click to find E-mail address
Security/Privacy/Return Policy
United States
510.832.0355
800.900.3734 (fax)

International
510.832.0355
510.834.6217 (fax)
<![if !supportEmptyParas]> <![endif]>