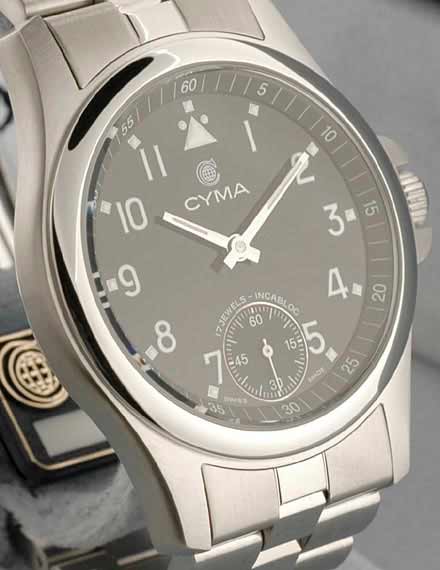 Cyma Swiss Made 43 mm Watch With 6498-1 Movement
| | | |
| --- | --- | --- |
| | Large Swiss made 43 mm watch with ETA 6498-1 movement in a see-thru back 100 percent stainless steel waterresistant to 5 ATM case. Supplied with a Stainless Steel Bracelet to fit the 22 mm wide case lugs. | |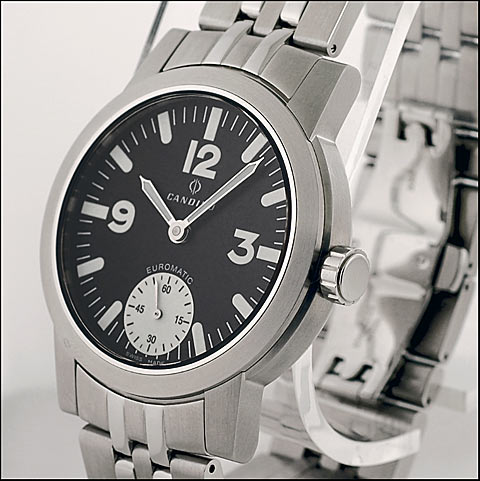 Candino, Swiss Made 42 mm Watch with ETA 6498-1 Movement, Black Dial and Sapphire Crystal
| | | |
| --- | --- | --- |
| | Solid Stainless Steel 42 mm Diameter Case and a deluxe Solid Links Stainless Steel 20 mm Lug Size Curved Bracelet with Hidden Butterfly Push Button Clasp. The dial features large luminous numbers easy to read both during the day or night, the white luminous sub second dial glows in the dark. The hour and minute hand are also luminous filled. The thickness of case is 9.85 mm and the crown diameter is 6.0 mm. The Candino Euromatic Case, for the manual wind ETA 6498-1 movement is water resistant to 10 ATM. A watch case alone of this quality alone would sell for $100 or more. Same with the stainless steel metal bracelet, similar to one which we sold for before for $100.00. Currently the ETA 6498-1 movement which is inside the watch sells for $186.00. This large heavyweight watch tips the scale at 172 grams, a little over 6 oz or 0.38% of a pound. The case and bracelet will fit wrist sizes up to 9 1/4 inches and the bracelet can be shorten by removing either the full size or half size links near the clasp. In all this watch is the real deal and at a fraction of the retail price selling in Europe which is close to 1,000 US dollars. | |
CANDINO-EURO-6498-SSBD
$298.00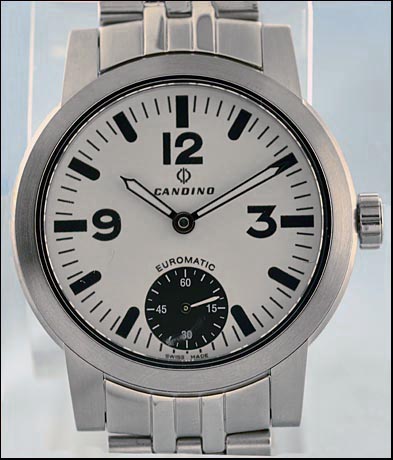 Candino, Swiss Made 42 mm Watch with ETA 6498-1 Movement, White Luminous Dial and Sapphire Crystal
| | | |
| --- | --- | --- |
| | First Quality Solid Stainless Steel 42 mm Diameter Case, and a heavy duty Solid Lug Stainless Steel 20 mm Lug Size Curved Bracelet with Hidden Butterfly Push Button Clasp. The White Dial will transform to give off a green glow in the dark that will allow for perfect reading of the numbers and luminous filled black trim hands The case is 9.85 mm thick and the crown diameter is 6.0 mm. The Candino Euromatic Case for the manual wind ETA 6498-1 movement is water resistant to 10 ATM. A watch case alone of this quality alone would sell for $100 or more. Same with the stainless steel metal bracelet, similar to one we sold for before for $100.00. Currently the ETA 6498-1 movement which is inside the watch sells for $186.00. This large heavyweight watch tips the scale at 172 grams, a little over 6 oz or 0.38% of a pound. The case and bracelet will fit wrist sizes up to 9 1/4 inches and the bracelet can be shorten by removing either the full size or half size links near the clasp. In all this watch is the real deal and at a fraction of the retail price selling in Europe which is close to 1,000 US dollars. | |
CANDINO-EURO-6498-SSWD
$298.00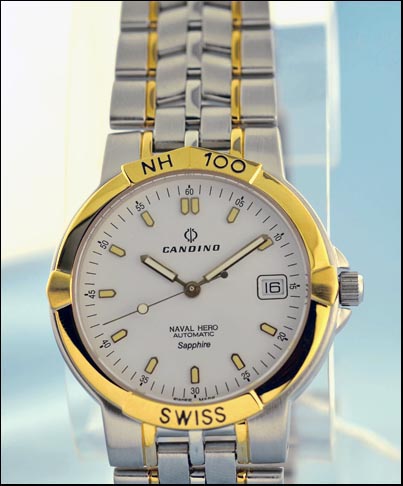 Candino Naval Hero 100 Wrist Watch with ETA 2824-2 Movement and Sapphire Crystal & White Dial
| | | |
| --- | --- | --- |
| | Stainless Steel Case with Gold Tone Bezel is 37.5 mm in diameter and 10 mm thick is rate 10 ATM. The 4.5 mm crown is shielded with by the crown protection design of the case. Matching Two-tone bracelet with 20 mm outside diameter clasp. Powered by the ETA 2824-2 Automatic Swiss Made Movement. | |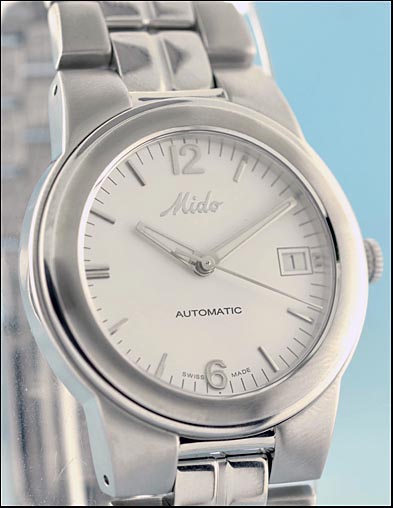 Mido Ocean Star Stainless Steel Wrist Watch with ETA 2824-2 Movement
| | | |
| --- | --- | --- |
| | Mido Ocean Star Model M8150.4.51.1 with Stainless Steel Bracelet. The 37 mm diameter stainless steel case is water resistant to 3ATM. Sapphire Glass crystal and powered by the ETA 2824-2 Automatic Swiss Made Movement. | |
Mido Model M8150.4.51.1
MIDO-OCEAN-SSWD
$298.00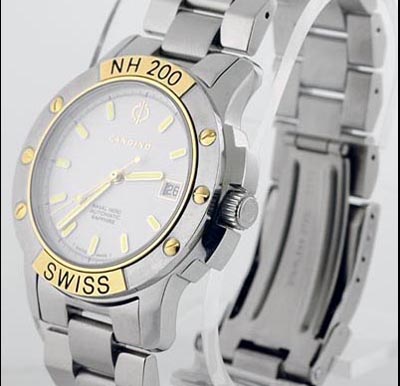 Candino Naval Hero 200 Wrist Watch with ETA 2824-2 Movement and Sapphire Crystal
| | | |
| --- | --- | --- |
| | Stainless Steel Case with Two Tone Bezel is 38.5 mm in diameter and 11 mm thick is rate 10 ATM. The 5.5 mm crown is shielded with by the crown protection design of the case. Stainless Steel Bracelet with tri-fold security clasp. Powered by the ETA 2824-2 Automatic Swiss Made Movement. | |
CANDINO-NH200-TTSSWD
$298.00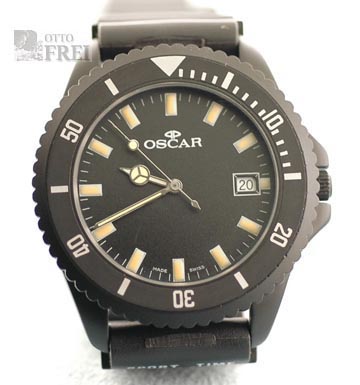 Oscar "Sport Time" Black Sport Quartz Watch with Rubber Strap
| | | |
| --- | --- | --- |
| | Swiss Made Oscar Quartz Watch. Case Measures 40 mm in diameter. Lugs at 18 mm by Buckle at 18 mm. Buckle End measures 3 1/8 inches, Hole End measures 5 3/8 inches. Total length of watch at 10 inches. Operates with Harley Ronda 375 Swiss Movement. Uses 395 cell battery. Has rotating bezel with luminous hands and luminous markers on the dial. | |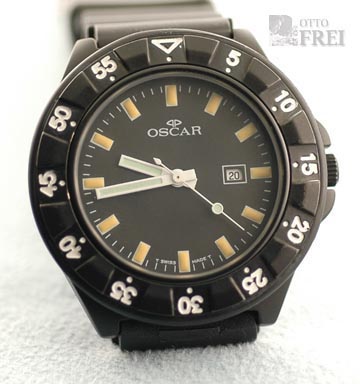 Oscar "Wind Velocity" Black Sport Quartz Watch with Rubber Strap
| | | |
| --- | --- | --- |
| | Swiss Made Oscar Quartz Watch. Case Measures 39 mm in diameter. Lugs at 18 mm by Buckle at 18 mm. Buckle End measures 3 1/8 inches, Hole End measures 5 3/8 inches. Total length of watch at 9 7/8 inches. Operates with Harley Ronda 362 Swiss Movement. Uses 362 cell battery. Has rotating bezel with luminous hands and luminous markers on the dial. | |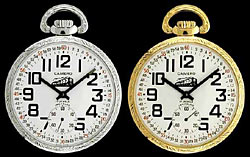 Swiss Made Pocket Watches
Swiss Made Pocket Watches with ETA 6497-1 & 6498-1 Movements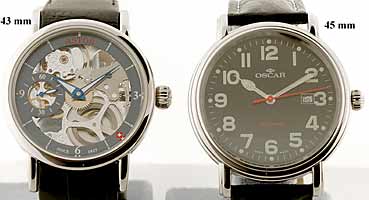 Large 41 to 48 mm Wrist Watches
Looking For A Big Watch with Easy to Read Numerals -Click Here!


Watch Cases
Case 10 & 11 Have Arrived!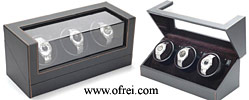 Automatic Watch Winders
Medical Jewelry and Watch Collections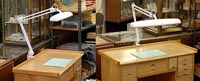 Specials

Watch Crystal & Case Back Protection Pads - Masking Sheets & Rolls


Watch Makers Hand-Held Metal Detector
The EMD 28 Metal Detector $89.95



Watch Bands & Straps
Click Here for our complete selection of Watch Bands and Straps of all kinds, Leather, Metal, Rubber, Nylon and more!

Early Vacheron & Constantin 18kt. Gold Pocket Watch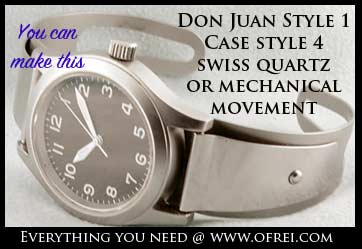 Make Your Own Watch
It is possible to make your own watches, using the selection of cases, dials and hands we offer.
We have many styles cases with choices of sapphire glass or harden mineral glass along with dials and hands to fit popular ETA & SELLITA Swiss Made mechanical movements 7750, 6497-1, 6498-1, 2824-2, 2836-2, 2804-2, 2801-2 and the Chinese mechanical movement DG4813. We also have cases and dials to fit the popular Ronda Swiss Made Quartz Movement Ronda 515. You'll find a large selection of hands, all the straps and tools you need to start assembling your own special watches.

Watch Tools, All Kinds of Watchmakers Tools

Watch Materials
Search for Products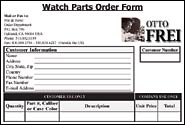 Order Form, For Watch Parts

Frei Family Watch Parts Legacy Three Generations

Email & Frequently Asked Questions