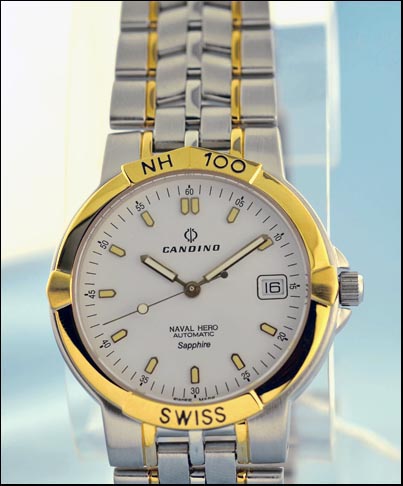 Candino Naval Hero 100 Wrist Watch with ETA 2824-2 Movement and Sapphire Crystal & White Dial
| | | |
| --- | --- | --- |
| | Stainless Steel Case with Gold Tone Bezel is 37.5 mm in diameter and 10 mm thick is rate 10 ATM. The 4.5 mm crown is shielded with by the crown protection design of the case. Matching Two-tone bracelet with 20 mm outside diameter clasp. Powered by the ETA 2824-2 Automatic Swiss Made Movement. | |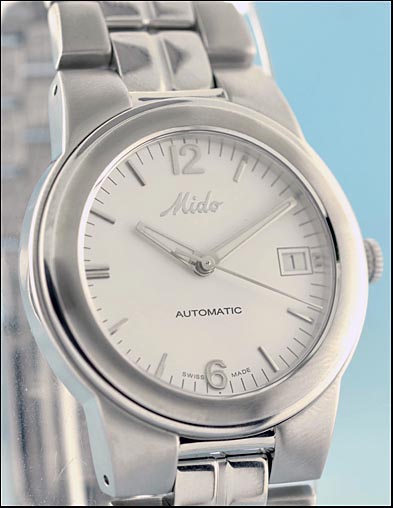 Mido Ocean Star Stainless Steel Wrist Watch with ETA 2824-2 Movement
| | | |
| --- | --- | --- |
| | Mido Ocean Star 37 millimeter diameter stainless steel case with 4.75 mm crown is water resistant 3ATM. Sapphire Glass crystal and powered by the ETA 2824-2 Automatic Swiss Made Movement. | |
MIDO-OCEAN-SSWD
$298.00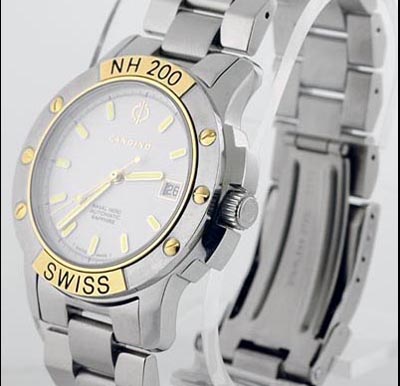 Candino Naval Hero 200 Wrist Watch with ETA 2824-2 Movement and Sapphire Crystal
| | | |
| --- | --- | --- |
| | Stainless Steel Case with Two Tone Bezel is 38.5 mm in diameter and 11 mm thick is rate 10 ATM. The 5.5 mm crown is shielded with by the crown protection design of the case. Stainless Steel Bracelet with tri-fold security clasp. Powered by the ETA 2824-2 Automatic Swiss Made Movement. | |
CANDINO-NH200-TTSSWD
$298.00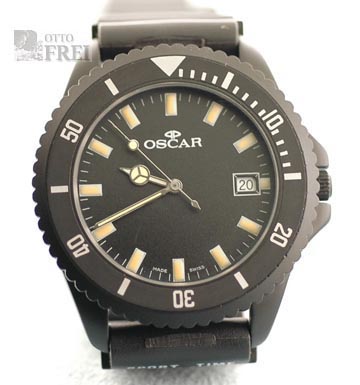 Oscar "Sport Time" Black Sport Quartz Watch with Rubber Strap
| | | |
| --- | --- | --- |
| | Swiss Made Oscar Quartz Watch. Case Measures 40 mm in diameter. Lugs at 18 mm by Buckle at 18 mm. Buckle End measures 3 1/8 inches, Hole End measures 5 3/8 inches. Total length of watch at 10 inches. Operates with Harley Ronda 375 Swiss Movement. Uses 395 cell battery. Has rotating bezel with luminous hands and luminous markers on the dial. | |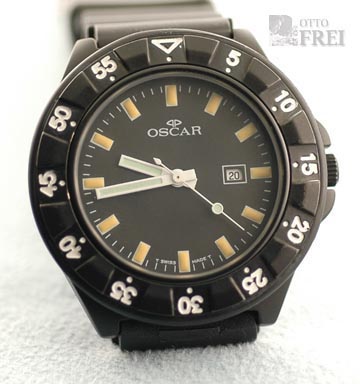 Oscar "Wind Velocity" Black Sport Quartz Watch with Rubber Strap
| | | |
| --- | --- | --- |
| | Swiss Made Oscar Quartz Watch. Case Measures 39 mm in diameter. Lugs at 18 mm by Buckle at 18 mm. Buckle End measures 3 1/8 inches, Hole End measures 5 3/8 inches. Total length of watch at 9 7/8 inches. Operates with Harley Ronda 362 Swiss Movement. Uses 362 cell battery. Has rotating bezel with luminous hands and luminous markers on the dial. | |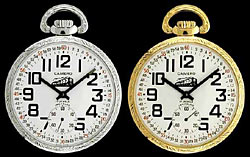 Swiss Made Pocket Watches
Swiss Made Pocket Watches with ETA 6497-1 & 6498-1 Movements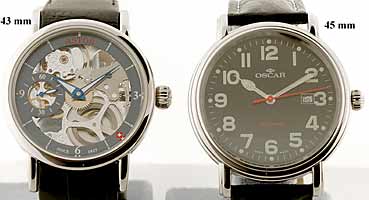 Large 41 to 48 mm Wrist Watches
Looking For A Big Watch with Easy to Read Numerals -Click Here!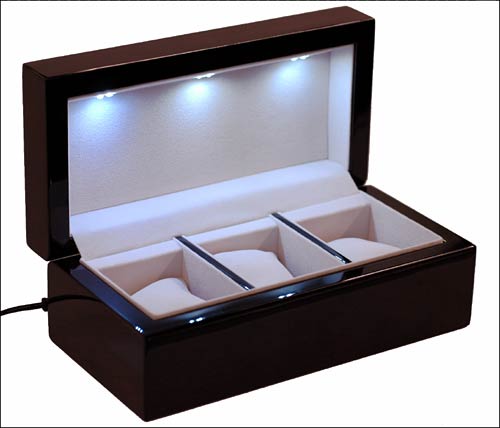 Powerful LED Light Box for Charging 3 Solar Watches
Keep your Solar watches charged! Beautifully Lacquer Finished Charging Box

Solar watch owners complained that their watches was not charged when they want to wear it. Well, this new powerful LED Light Box for 3 Solar Watches can charge the watches while they are stored inside with the lid closed. High quality structure of the box will prevent any light leakage and will not disturb your sleep even in the bedroom. Yes, the outside finish is real wood! Each is made from the finest Burlwood paper veneer for outstanding character and finish. Use it to keep your watched from losing its charge, or when a watch is completely discharged then placed it inside the box for recharging, an 8 hour charge will give the capacitor more than 60% power.

If you don't have solar watches, you can also use this as a display box with the lid open and the LED light shining on your expensive piece.

Box is equipped with 3 individual light switches located on the back, allowing users to charge up to 3 solar watches. Power supply comes with a USA plug attached and works in the USA as well as Internationally anywhere that has voltage from 100v - 240v. International customers will need to go to their local electronics store to get an adapter. This unit is not battery operated.

Measurements: 8 3/4" Length X 4 3/8" Depth X 3 3/8" Height (222 X 110 X 88 MM).

Watch Cases
Case 10 & 11 Have Arrived!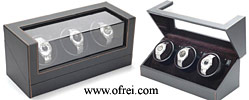 Automatic Watch Winders
Medical Jewelry and Watch Collections

Frei Family Watch Parts Legacy Three Generations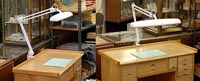 Specials

Watch Crystal & Case Back Protection Pads - Masking Sheets & Rolls


Watch Makers Hand-Held Metal Detector
The EMD 28 Metal Detector $89.95



Watch Bands & Straps
Click Here for our complete selection of Watch Bands and Straps of all kinds, Leather, Metal, Rubber, Nylon and more!

Watch Tools, All Kinds of Watchmakers Tools

Watch Materials
Search for Products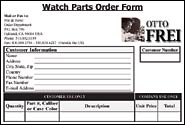 Order Form, For Watch Parts

Email & Frequently Asked Questions
Early Vacheron & Constantin 18kt. Gold Pocket Watch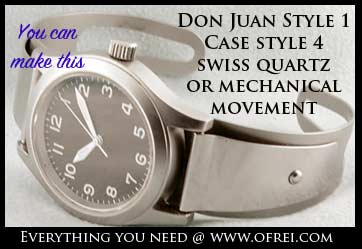 Make Your Own Watch
It is possible to make your own watches, using the selection of cases, dials and hands we offer.
We have many styles cases with choices of sapphire glass or harden mineral glass along with dials and hands to fit popular ETA & SELLITA Swiss Made mechanical movements 7750, 6497-1, 6498-1, 2824-2, 2836-2, 2804-2, 2801-2 and the Chinese mechanical movement DG4813. We also have cases and dials to fit the popular Ronda Swiss Made Quartz Movement Ronda 515. You'll find a large selection of hands, all the straps and tools you need to start assembling your own special watches.