Bergeon White Leather Buff Stick 1282-D
| | | |
| --- | --- | --- |
| | Fine White Leather Buff Stick, only 6 millimeters wide great for reaching spots a wider buff can't handle. | |

Bergeon Chamois 6 MM Wide Buff Stick 1283-D
| | | |
| --- | --- | --- |
| | Chamois Buff Stick, only 6 millimeters wide great for reaching spots a wider buff can't handle. | |
Plastic Buff Proctector For 6 mm Buff
| | | |
| --- | --- | --- |
| | Keep your buff clean, when not in use. | |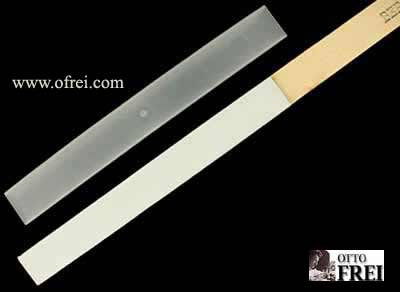 Bergeon White Leather Buff Stick 1282-A
| | | |
| --- | --- | --- |
| | Fine white leather Buff stick 12 mm wide. Shown with a Plastic Buff Protector, which is sold separately. | |

Bergeon Chamois 12 MM Wide Buff Stick 1283-A
| | | |
| --- | --- | --- |
| | Chamois Buff Stick, 12 mm wide. | |
Plastic Buff Proctector For 12 mm Buff
| | | |
| --- | --- | --- |
| | Keep your buff clean, when not in use. | |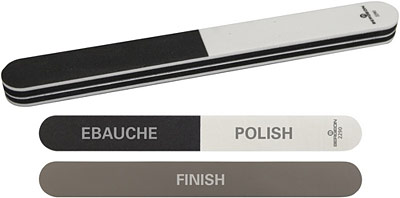 Bergeon 2290 Buff to Polish Stick
Has 3 different abrasives allowing to buff bracelets and watch cases. Start with the Ebauche side, then move to the polish side, and end with using the finish side.

Click here for a demonstration.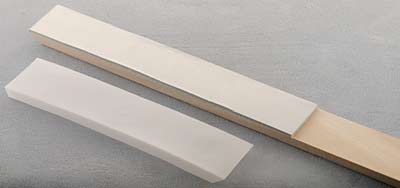 Horotec 22 MM Leather Buff Stick 26.424
| | | |
| --- | --- | --- |
| | Fine leather buff stick for cleaning and polishing. Size: 22 mm wide and 245 mm in length. Shown with a Plastic Buff Protector, which is sold separately. | |
Plastic Buff Protector For 22 MM Buff
| | | |
| --- | --- | --- |
| | Keep your buff clean, when not in use. Size: 22 mm wide and 110 mm in length. | |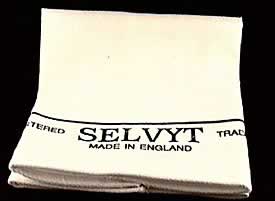 Selvyt Cloth 10" x 10" made in England
| | | |
| --- | --- | --- |
| | This is the world's best selling general purpose cloth to wipe off dust and finger prints. Used, sold and given away by fine jewelers all other the world you can wash this cloth when soiled. The Selvyt Cloths are old and very traditional cloth that have been the leading seller in the jewelry industry. It replaced chamois leather as the most popular cloth In use. While in fact good chamois leather has some superior qualities the durability and ease of washing clean the Selvyt cloth along with the multiple uses jewelers and watchmakers found for them made the Selvyt cloth and indispensable item for all. Even today with new Mirco-fiber on the market which have some superior qualities that the Selvyt cloths multiple uses and lasting durability still have a place in the workshop. | |

Cleaning Supplies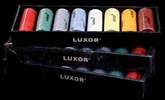 Rouges & Buffing Wheels

Polishing & Cleaning Cloths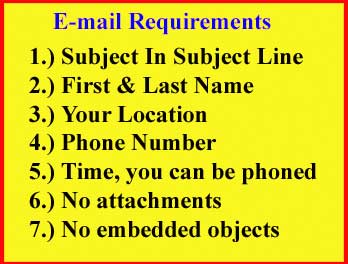 Your cooperation is appreciated.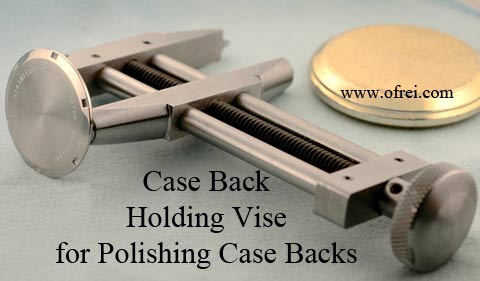 Vise to Hold Case Backs for Polishing, Made in USA
| | | |
| --- | --- | --- |
| | American made vise to double sided vise to hold case backs when polishing the back of watch cases. Double ended opens to 70 mm, has two different end to securely hold any size case backs, when polishing the case back | |
OFREI-VISE-01
$89.00