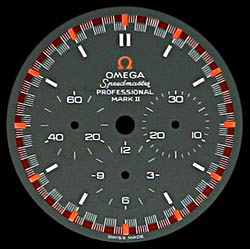 Omega Speedmaster Professional Mark II Dial 1469-002
SPDMS GREY W/RED MINUTE TRACK.
This dial is for caliber 861.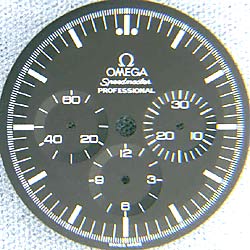 Omega Watch Dial Caliber 321 Style 3
New 321 dial, this dial has a "painted on" Omega symbol.


Has your dial lost its glow? Time to replace it with a new one.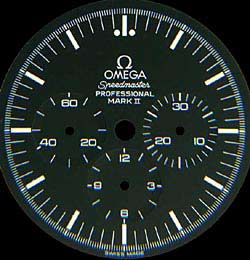 Omega Dial Caliber 861 Style 1
| | | |
| --- | --- | --- |
| | Omega Speedmaster Professional MARK II a classic genuine Omega dial for caliber 861. | |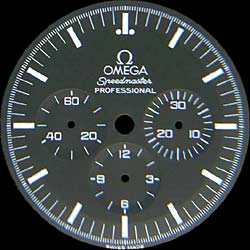 Omega Speedmaster Professional Dial 3052001
| | | |
| --- | --- | --- |
| | Omega Dial Calibre 861/1861. This dial has been listed for model numbers 3560.50.00 case 145.0223, model 3570.50.00 case 145.0022, model 3572.50.00 case 145.0808, 3574.51.00 case 145.0226, model 3870.50.31 case 145.0022, 3873.50.31 case 145.0811, model 3872.50.31 case 145.0808 | |