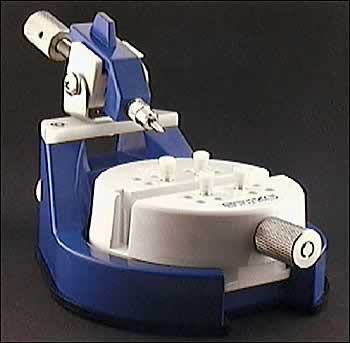 Seiko S-261 Snap-Back Case Opener
| | | |
| --- | --- | --- |
| | During my first trip to Hong Kong back in 93, I saw a version of this tool made by a German company. About a year later Seiko came out with this tool at half the price of the German model. Now everybody can open the back of snap-back cases without scratching the backside case or cutting into the coil. However, the openers blade can dig into and notch a soft gold case. It is best to use this tool on harder metal cases. | |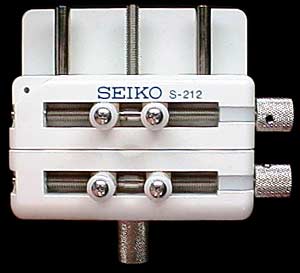 Seiko Case Holder S-212
| | | |
| --- | --- | --- |
| | For use when opening screw back cases. Rubber suction base hold firm and is ideal for desk/counter top use. Can hold cases from 22 - 70 mm. | |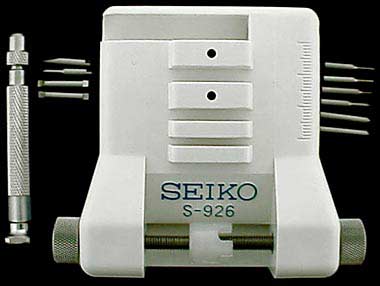 Seiko Multiple Band Sizing Tool S-926
This Seiko bracelet sizing tool is designed to make your Seiko band sizing jobs a whole lot easier to perform.


Equipped with band holders, blade holder, ruler, screwdriver holder, screwdriver, blades and pushing removing bit, pressor, removing bits/support bits, and band sizing holder.


3 removing bits sizes .45, .60, and .80 mm.
3 pipe install or support bits sizes .45, .60, and .80 mm.
3 screwdriver blades sizes (2x) 2.5 and (1x) 1.2 mm.
1 pushing removing bit.


Replacement bits are available from stock and will be added to the site soon.
Seiko Multiple Band Sizing Tool S-926-03 Removing Bits
| | | |
| --- | --- | --- |
| | Removing bit comes with three different sizes: 0.45 mm, 0.60 mm, and 0.80 mm. | |
Seiko Multiple Band Sizing Tool S-926-SB Support Bits
| | | |
| --- | --- | --- |
| | Support bit comes with three different sizes: 0.45 mm, 0.60 mm, and 0.80 mm. | |
Seiko Multiple Band Sizing Tool S-261-01 Screwdriver Blade 2.5 mm, Pack of 2
| | | |
| --- | --- | --- |
| | Screwdriver Blade 2.50 mm. Comes in a package of 2 pieces. | |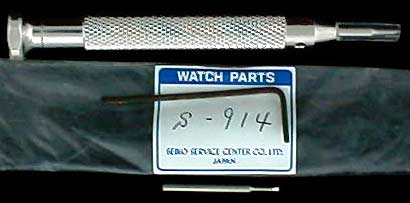 Seiko S-914 Bracelet Adjusting Screwdriver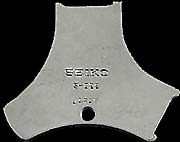 Seiko Key S-822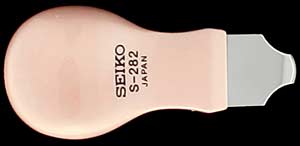 Seiko Push-Type Opener S-282
| | | |
| --- | --- | --- |
| | Designed by Seiko to open some snap back cases easier. Comes in pink handle. | |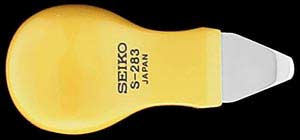 Seiko Push-Type Opener S-283
| | | |
| --- | --- | --- |
| | Designed by Seiko to open some snap back cases easier. Comes in yellow handle. | |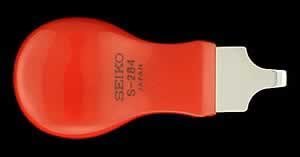 Seiko Push-Type Opener S-284
| | | |
| --- | --- | --- |
| | An inexpensive tool made by Seiko to open snap back cases. Comes in red handle. | |