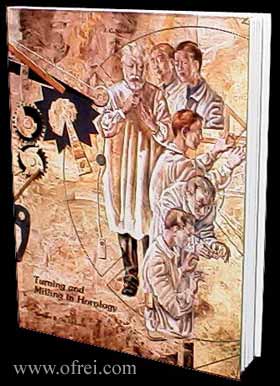 Turning and Milling in Horlogy
| | | |
| --- | --- | --- |
| | This is a 60 page book, with several examples and illustrations along with detailed instructions for the use of Bergeon-Technoli cutters # 7810 and for gear cutters #6375 and #6376. With J. CI. Nicolet, a master clockmaker as its author the examples are mostly clock parts, while a watch escape wheel does get some acknowledgment. | |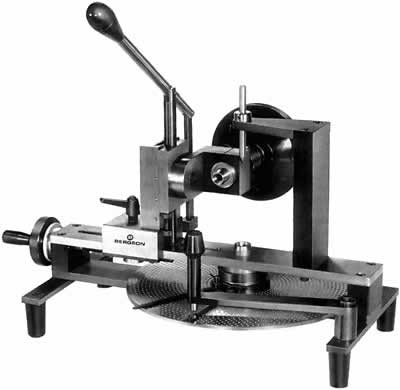 Bergeon Machine to Cut Out Gears
High quality and precision machine for the clockmaker. Robust, made of steel. Vertical slide-way on ball frame. Large dividing plate with precision lever. Also possible to cut out pinions.

Special order item. Please allow 4-6 weeks for delivery

124 Different Watch Pinions From 6 to 12 Leaves
| | | |
| --- | --- | --- |
| | Just think what you might find or do on your lathe with these pinions. This collection contains both solid pinions with pivots and hollow pinions in different lengths with 12, 10, 8 and 6 leaves. Find one you can use as is or cut one down to the length and pivot size required for the job on hand. | |
Save 600 Dollars, Bergeon Assortment of 12 End-Mill, in Hard Metal, with Interchangeable Pivots
All the pivots of the assortment are interchangeable between themselves for end-mill number 1 to 12 plus 16 and number 13 to 15. Use with broach 30007-C that is included. Conical shank 2%. Delivered in wooden case.
Special Sale item, only one available at this price.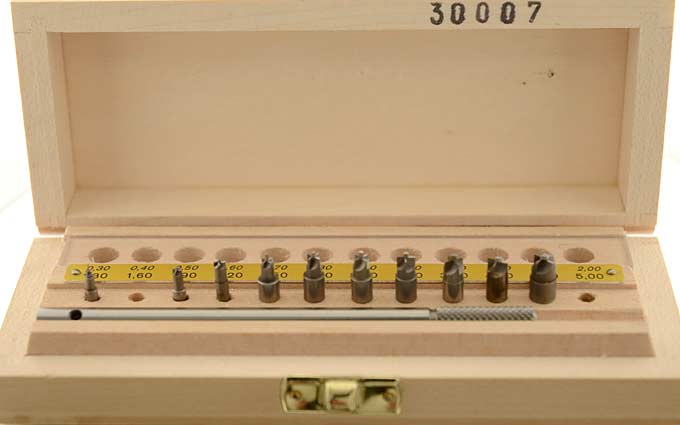 Bergeon 30007 Original Version, Incomplete Countersink Assortment
Bergeon discontinued the original version of this product quite a few years ago and replaced it with BERG-30007-MD12 $1,295.00 and BERG-30007-MD15 $2,262.00.

This 30007 countersink assortment is new, however years ago (when we thought replacements were available) we sold the 1.60 and 5.00 sizes. Sizes in this set: 1.30, 1.90, 2.20, 2.50, 2.80, 3.10, 3.40, 3.70, 4.00 and 4.50 mm.


Close up view of the countersinks and pivots of the incomplete 30007 set.