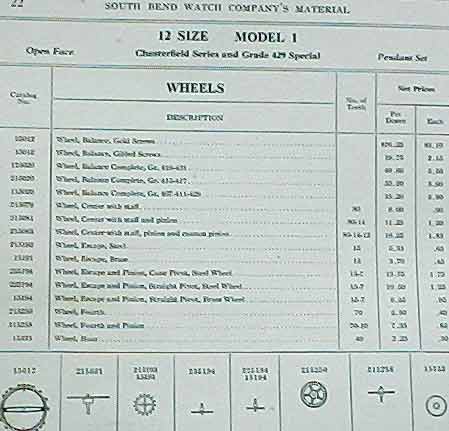 South Bend Watch Parts
With this book we will be able to organize the stock acquired over the years. It may take years for me to find time and man power to organize and list of the Web the South Bend Parts we can supply. Until then, orders only from existing watch parts customers who place orders for these parts along with their regular parts will be processed. Credit Applications from Professional Repair Shops, will be handled by Karla in the Credit Department 510-832-0355, fax 510-834-6217.


This book is dated 1928 and used by Otto Frei, when he started selling watch parts in 1930.


Even with a book like this sending us a sample to match is very helpful.


Stems for American Pocket Watches
Stems For All Brand Of American Pocket Watches
Listed by Square Size, Hub, Thread and Cone.
Elgin, Hamilton, Hampden, Howard, Illinois, Waltham, South Bend, Waltham and More. For Popular Cases manufactures, Crescent, Fahys, Illinois, Keystone, Philadelphia, Star, Wadsworth