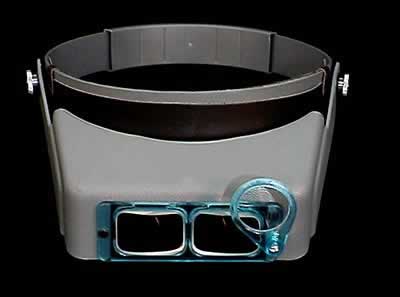 Optivisor DA-10, 3 1/2 Power, 4" Working Distance
| | | |
| --- | --- | --- |
| | Features a dial adjustmement headband to fit any head size. Well made magnifier, lightweight and durable. Fits over eyeglasses and the adjustable pivot assembly on the visor can be set to desired tension, so it will stay in place when tilted. Lenses are ground and polished prismatic type. This is the industry standard and is use all over the world, don't be fooled by cheap copies. Shown with the optional "Optiloupe" accessory number FB-631 not included, which will add 2 1/2 power to any Optivisor. | |
Optiloupe 2 1/2 Power Accessory Loupe
| | | |
| --- | --- | --- |
| | The "Optiloupe" will add 2 1/2 power to any Optivisor. Swings out of the away when not in use. | |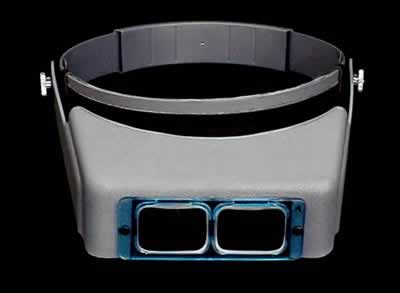 Optivisor DA-7, 2 3/4 Power, 6" Working Distance
| | | |
| --- | --- | --- |
| | Optivisor is a precision binocular headband magnifier which permits unrestricted user efficiency while reducing eye strainóleaves both hands free and allows three dimensional vision. Used by anyone whose profession or craft requires close accurate work. Can be worn over prescription or safety eyeglasses. | |
Optivisor DA-3, 1 3/4 Power, 14" Working Distance
| | | |
| --- | --- | --- |
| | Optivisor is a precision binocular headband magnifier which permits unrestricted user efficiency while reducing eye strainóleaves both hands free and allows three dimensional vision. Used by anyone whose profession or craft requires close accurate work. Can be worn over prescription or safety eyeglasses. | |
Optivisor DA-2, 1 1/2 Power, 20" Working Distance
| | | |
| --- | --- | --- |
| | Optivisor is a precision binocular headband magnifier which permits unrestricted user efficiency while reducing eye strainóleaves both hands free and allows three dimensional vision. Used by anyone whose profession or craft requires close accurate work. Can be worn over prescription or safety eyeglasses. | |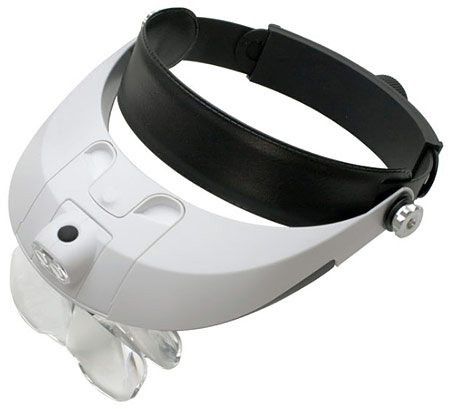 Head Visor Magnifier with Triple LED Light & 5 Lenses
| | | |
| --- | --- | --- |
| | A super bright triple LED light and four different power interchangeable lens plates makes this a must have tool. Comes with five clearly marked lens plates, 1.0X, 1.5X, 2.0X, 2.5X, and 3.5X that easily snap on and off. Center positioned swivel LED lamp gives pinpoint lighting in hard-to-see situations (runs on three AAA batteries - included). As a bonus, the removable LED lamp with magnetic base can be used as a free-standing light source. This is the ultimate in lighted headband magnifiers. Now you finally have the power you need available and the extra light right where you need. | |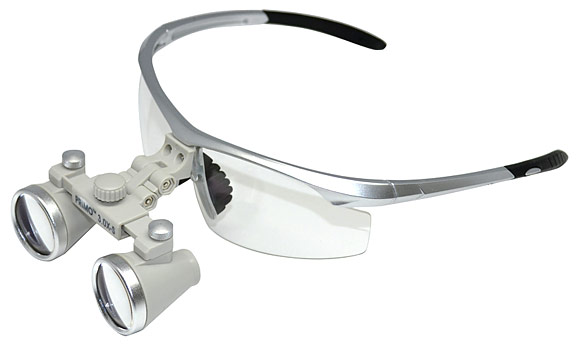 Optic Setter's Safety Glasses 3X
These economical setter's safety glasses deliver high quality optics and durability. Both eyepieces are mounted on an attractive eyeglass frame that offers additional safety from small particles, debris, and dust from the setter's bench activities.

Optics are available in different working distances and fields of view as required to perform the various close-up tasks of the bench worker.

The safety glasses are supplied in a handy carry case, along with a polishing cloth to clean the Optics, and a convenient cord to hold the glasses around your neck.

Magnification: 3.0X. Working Distance: 11" - 15". Field View: 2.75"

Special Order Item. Please Allow 2-3 weeks for Delivery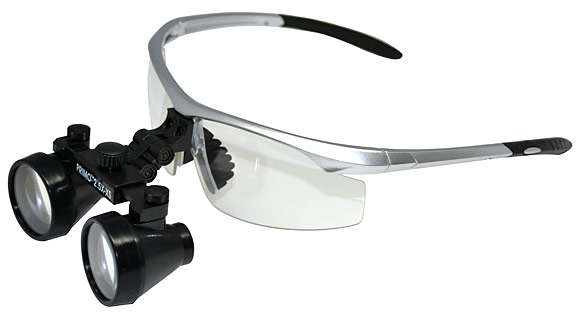 Optic Setter's Safety Glasses 2.5X
These economical setter's safety glasses deliver high quality optics and durability. Both eyepieces are mounted on an attractive eyeglass frame that offers additional safety from small particles, debris, and dust from the setter's bench activities.

Optics are available in different working distances and fields of view as required to perform the various close-up tasks of the bench worker.

The safety glasses are supplied in a handy carry case, along with a polishing cloth to clean the Optics, and a convenient cord to hold the glasses around your neck.

Magnification: 2.5X. Working Distance: 11" - 15". Field View: 3.75"

Magnifiers & Eye Loupes for Watchmakers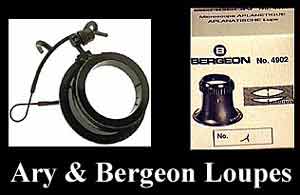 Click Here For Ary & Bergeon Loupes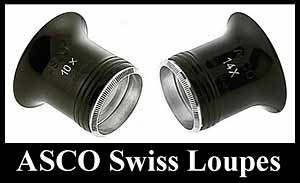 Click Here For Asco Swiss Watchmakers Eye Loupes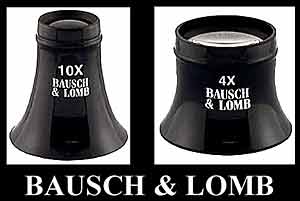 Click Here Bausch & Lomb Watchmakers Loupes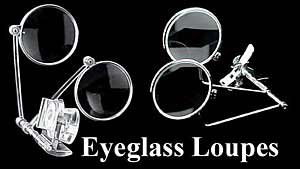 Click Here For Eyeglass Loupes