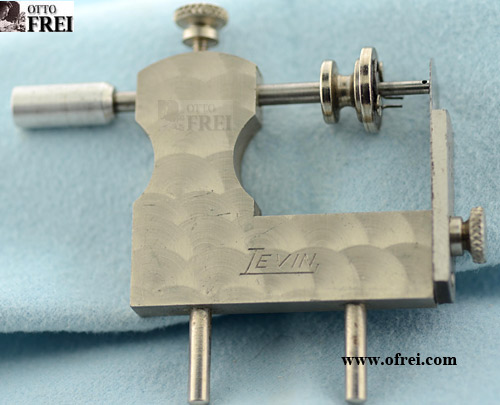 Used Levin Pivot Polisher
USED-LEVIN-PIVOT-POLISHER
$96.00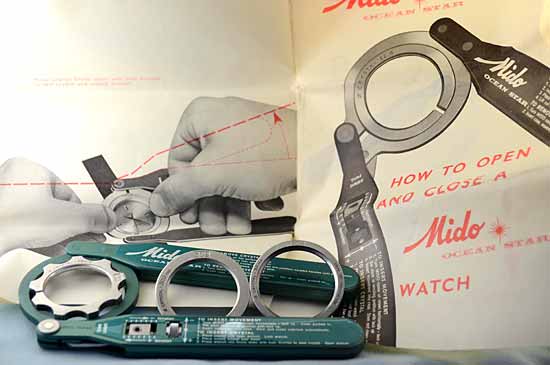 New Vintage Mido Wrench with Instructions For Ocean Star Watches
Comes with 4 different reversible rings 8 sizes in all, to Remove and Install both Crystals and Movements in Mido One-piece Cases. Comes complete with instructions from Mido to guide you thru the process.

Do you have some Mido Ocean Star Watches and have trouble removing and installing both the crystal and the movement? This Mido Tool with instructions on how to use it will certainly help you.
MIDO-OPENER
$59.95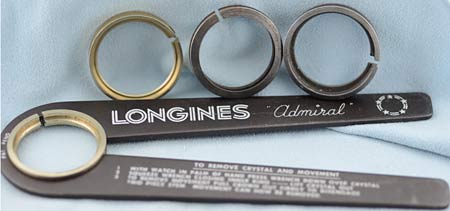 Genuine Longines Crystal Remover
CRYSTAL-REMOVER-LONGINES
$36.95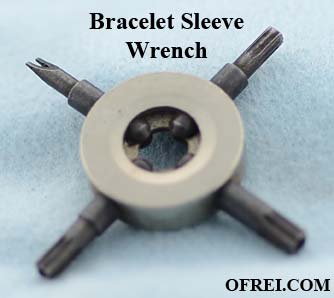 Used 4 Prong Bracelet Watch Sleeve Wrench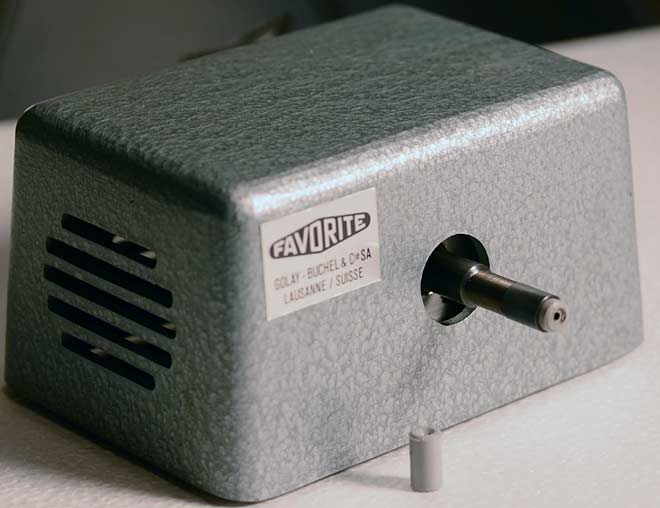 Favorite, Golay Buchel Winder For Manual Wind Watches
Classic from the old days when the majority of the watches retailers sold were manual wind watches. Keeping 20-40 watches on display running every day requires a lot of winding, and the results were sore fingers.

This Favorite winder was part of Harry's Watch Supply of South Holland Illinois inventory. Box still has price on it from the 1970's of $195.00 dollars. Basically it's brand new, perhaps it's been used for demonstration a few times. If you have a collection of manual wind watches and are looking for a quicker and easier way to wind them, consider this tool.

Elgin Regulator Pin Adjusting Wrench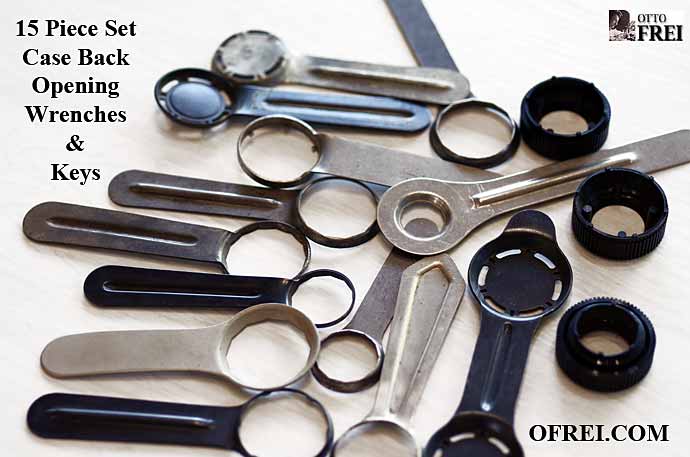 15 Piece Set Of Case Back Wrenches & Keys
| | | |
| --- | --- | --- |
| | Quick and easy to use Waterproof case back wrenches for popular vintage models for Accutron, Bulova, Longines and others. | |
USED-15PC-WRENCHES
$27.95




Pivot File 1520
$36.00
PIVOT-FILE-1520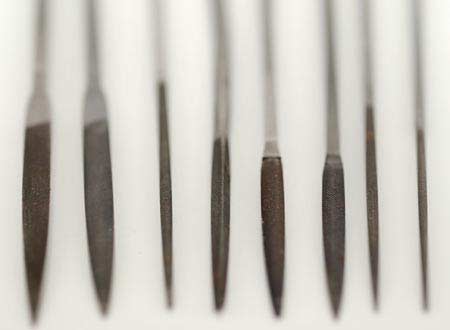 Used Escapement File Set of 8
$62.00
USED-8-ESCAPE-FILES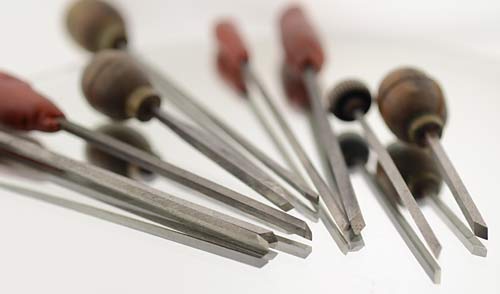 Assortment of 9 Used Gravers-Cutters
$24.95
USED-9KNOBS-GRAVERS




Pivot File 1540
$36.00
PIVOT-FILE-1540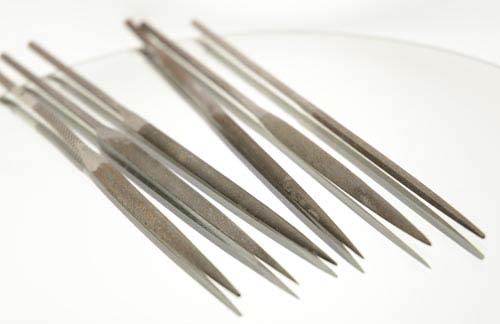 Used 6 Piece Needle File Set #4
$23.65
USED-6-FILES-4
Needle Files are small hand files used by watchmakers and Jewelers
Considering the current cost of 1 Swiss made needle file, this set is a bargain you should consider.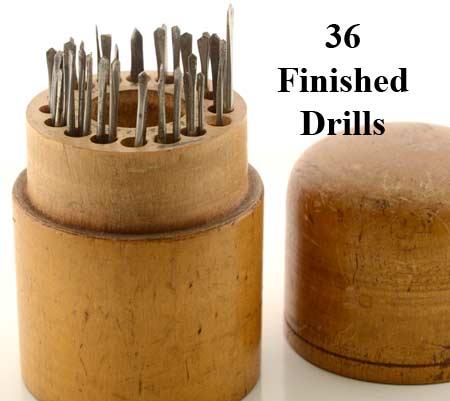 Used Vintage Set of Finished Drills
$64.80
USED-FINISHDRILL-SET
36 Piece Set With Storage Box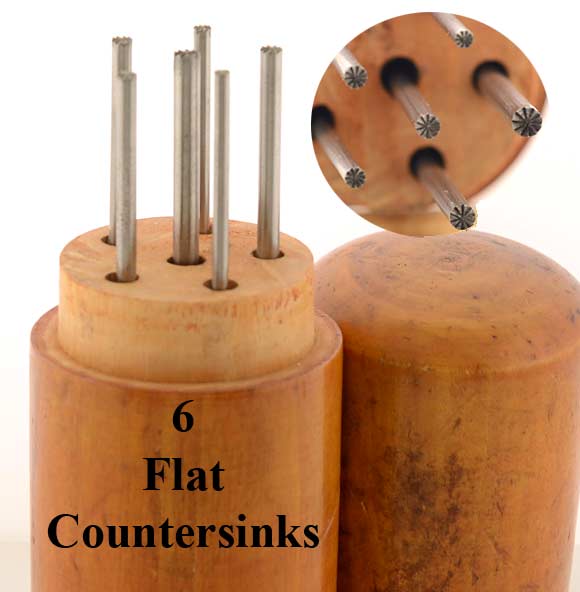 Used Set of 6 Flat Countersinks
$68.00
USED-6-COUNTERSINKS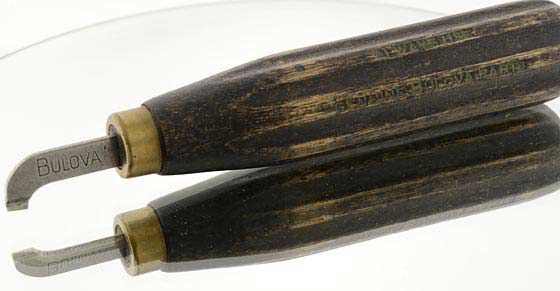 Used Bulova Snap Back Case Opener With Wood Handle
$9.95
BULOVA-SB-CASEOPEN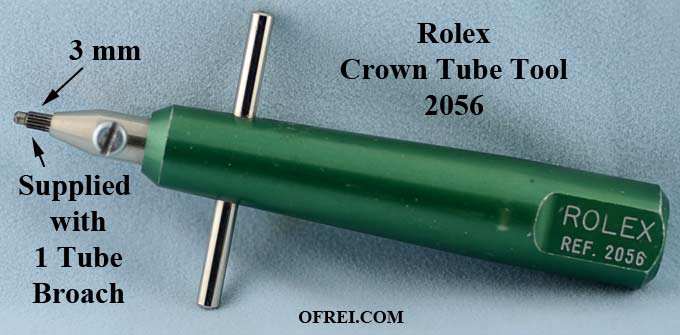 RARE & COLLECTIBLE ROLEX TOOL FOR REMOVING CROWN TUBES REF 2056
| | | |
| --- | --- | --- |
| | Comes with one tube removing bit, measuring just short of 3.00 mm intended for the tube with a 7 mm crown. | |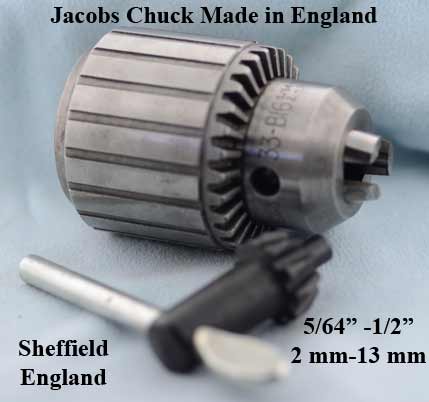 Jacobs Chuck 33-B16 With Key 32, 5/64-1/2" Made In Sheffield England
| | | |
| --- | --- | --- |
| | New, Unused Vintage Jacobs Chuck with capacity from 5/64" to 1/2" (2 to 13 mm). | |
JACOBS-CHUCK-33-B16
$52.95



Used Roller And Pallet Jewel Setter
$10.95
USED-RO&PA-SETTER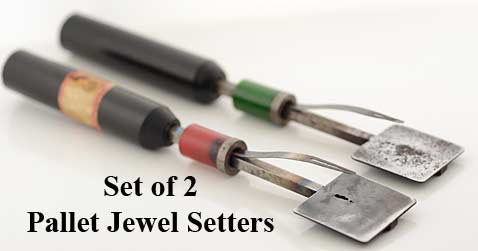 Used 2 Piece Set Of Pallet Jewel Setters
$24.00
USED-2PALLET-JEWELSET




Used Pallet Jewel Setter Steel
$12.85
USED-PALLET-JEWELSETTER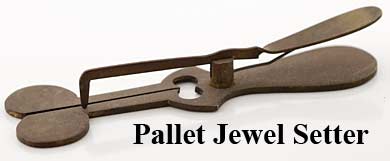 Used Pallet Jewel Setter Brass
$12.85
USED-PALLET-JEWELSETTER-BA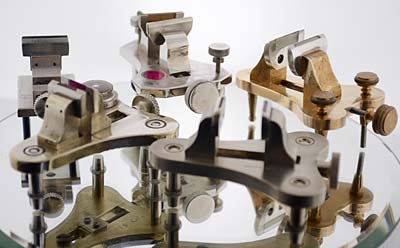 Used Poising Tools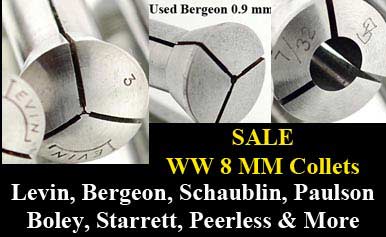 New and Used WW Lathe Collets Chucks
USED 8 MM WW LATHE COLLETS STARTING AT $6.95 EACH!
New Schaublin 8 mm WW Lathe Collets $28.95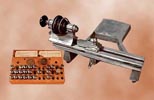 Used Lathes & Accessory Items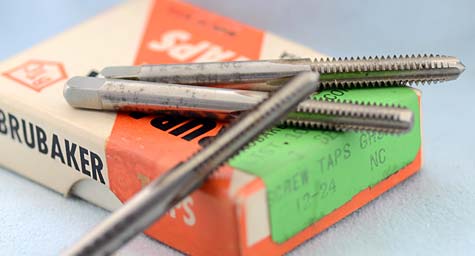 Milling Tools, Brubaker Taps, Validus Keyless Jacobs Chucks
VALIDUS KEYLESS JACOBS DRILL CHUCKS, Diamond Core Drills, Favorite Lathes Accessories For Models 2 And 3



Steampunk Watch Parts For Art & Jewelry Making By The Gram
Our Steampunk Watch Parts by the Gram and the pound use for Artwork, Jewelry making and anything you can think of!