Bergeon 5970 Screwdriver Blades 9 Piece Refill Assortment
| | | |
| --- | --- | --- |
| | Refill Assortment of 1 each Bergeon 5970 Screwdriver Blades, sizes 0.50, 0.60, 0.80, 1.00, 1.20, 1.40, 1.60, 2.00, and 2.50 mm. | |

Bergeon 0.50 Millimeter Screwdriver Blades, Tube of 4
| | | |
| --- | --- | --- |
| | Color coded tube with four .50 Millimeter Bergeon Screwdriver Blades. | |
Single Bergeon 0.50 Millimeter Screwdriver Blade
| | | |
| --- | --- | --- |
| | One 0.50 Millimeter Bergeon 30080-A Screwdriver Blade. | |
Bergeon 0.60 Millimeter Screwdriver Blades, Tube of 4
| | | |
| --- | --- | --- |
| | Color coded tube with four .60 Millimeter Bergeon Screwdriver Blades. | |
Single Bergeon 0.60 Millimeter Screwdriver Blade
| | | |
| --- | --- | --- |
| | One 0.60 Millimeter Bergeon 30080-A Screwdriver Blade. | |

Bergeon 0.80 Millimeter Screwdriver Blades, Tube of 4
| | | |
| --- | --- | --- |
| | Color coded tube with four .80 Millimeter Bergeon Screwdriver Blades. | |
Single Bergeon 0.80 Millimeter Screwdriver Blade
| | | |
| --- | --- | --- |
| | One 0.80 Millimeter Bergeon 30080-A Screwdriver Blade. | |
Bergeon 1.00 Millimeter Screwdriver Blades, Tube of 4
| | | |
| --- | --- | --- |
| | Color coded tube with four 1.00 Millimeter Bergeon Screwdriver Blades. | |
Single Bergeon 1.00 Millimeter Screwdriver Blade
| | | |
| --- | --- | --- |
| | One, 1.00 Millimeter Bergeon 30080-A Screwdriver Blade. | |

Bergeon 1.20 Millimeter Screwdriver Blades, Tube of 4
| | | |
| --- | --- | --- |
| | Color coded tube with four 1.20 Millimeter Bergeon Screwdriver Blades. | |
Single Bergeon 1.20 Millimeter Screwdriver Blade
| | | |
| --- | --- | --- |
| | One, 1.20 Millimeter Bergeon 30080-A Screwdriver Blade. | |

Bergeon 1.40 Millimeter Screwdriver Blades, Tube of 4
| | | |
| --- | --- | --- |
| | Color coded tube with four 1.40 Millimeter Bergeon Screwdriver Blades. | |
Single Bergeon 1.40 Millimeter Screwdriver Blade
| | | |
| --- | --- | --- |
| | One, 1.40 Millimeter Bergeon 30080-A Screwdriver Blade. | |

Bergeon 1.60 Millimeter Screwdriver Blades, Tube of 3
| | | |
| --- | --- | --- |
| | Color coded tube with three 1.60 Millimeter Bergeon Screwdriver Blades. | |
Single Bergeon 1.60 Millimeter Screwdriver Blade
| | | |
| --- | --- | --- |
| | One, 1.60 Millimeter Bergeon 30080-A Screwdriver Blade. | |
Bergeon 2.00 Millimeter Screwdriver Blades, Tube of 2
| | | |
| --- | --- | --- |
| | Color coded tube with two 2.00 Millimeter Bergeon Screwdriver Blades. | |
Single Bergeon 2.00 Millimeter Screwdriver Blade
| | | |
| --- | --- | --- |
| | One, 2.00 Millimeter Bergeon 30080-A Screwdriver Blade. | |
Bergeon 2.50 Millimeter Screwdriver Blades, Tube of 2
| | | |
| --- | --- | --- |
| | Color coded tube with two 2.50 Millimeter Bergeon Screwdriver Blades. | |
Single Bergeon 2.50 Millimeter Screwdriver Blade
| | | |
| --- | --- | --- |
| | One, 2.50 Millimeter Bergeon 30080-A Screwdriver Blade. | |
Bergeon 3.00 Millimeter Screwdriver Blades, Tube of 2
| | | |
| --- | --- | --- |
| | Color coded tube with two 3.00 Millimeter Bergeon Screwdriver Blades. | |
Single Bergeon 3.00 Millimeter Screwdriver Blade
| | | |
| --- | --- | --- |
| | One, 3.00 Millimeter Bergeon 30080-A Screwdriver Blade.. | |
Bergeon Blade Fixing Screw For 0.60 to 1.6 mm Screwdrivers
| | | |
| --- | --- | --- |
| | Blade Fixing "Set Screw" for all Bergeon Screwdrivers for sizes 0.60 mm to 1.60 mm. | |
Bergeon Blade Fixing Screw For 1.8 to 3.0 mm Screwdrivers
| | | |
| --- | --- | --- |
| | Blade Fixing "Set Screw" for all Bergeon Screwdrivers for sizes 1.80 mm to 3.00 mm. | |
Bergeon Blade Fixing Screw For The 0.50 mm Screwdriver
| | | |
| --- | --- | --- |
| | Blade Fixing "Set Screw" for all Bergeon Screwdrivers 0.50 mm size. | |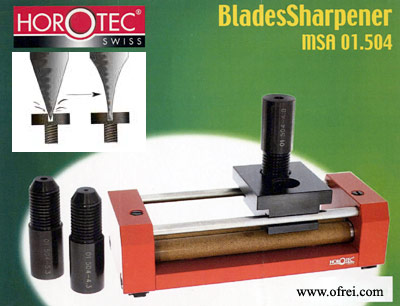 Horotec Screwdriver Sharpener For Watchmakers Who Work On High Grade Watches
It takes a special sharpener to sharpen the perfect shape screwdriver blade. If you are working on high grade watches you might want to consider one of these. Three special bits with hole diameter 4.3 mm, 4.8 mm, and 5.3 mm can hold each of the ten sizes in correct alignment against the rounded stone.

Tool comes with 3 stones that can be replaced when worn. Two of the stones are round part number MSA01.502-A and one square stone number part number MSA01.502-B.
Set of Two Round Stones For Horotec Screwdriver Sharpener MSA01502
| | | |
| --- | --- | --- |
| | Special order item, please allow 4-6 weeks for delivery. | |
Replacement Square Stone For Horotec Screwdriver Sharpener MSA 16.002
| | | |
| --- | --- | --- |
| | Special order item, please allow 4-6 weeks for delivery. | |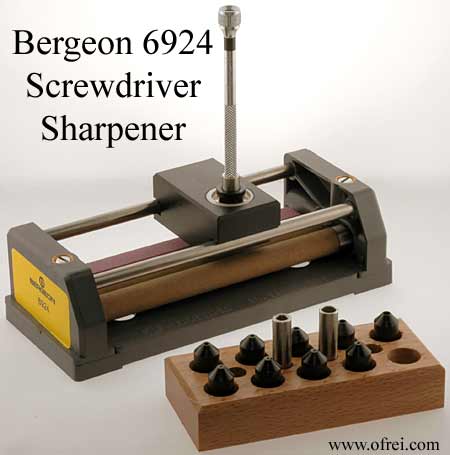 Bergeon 6924 Sharpener For Screwdriver Blades
The word is, from the users of these product, that this is the best screwdriver sharpener tool offered to date. They say this Bergeon tool is a lot better than the Horotec tool and is worth the extra money. We are please to offer all screwdriver sharpeners and if you can afford it, then this is the best tool to get.

There are two parallel abrasive cylinders (#6924-11 round stone) that put the right curvature on your screwdriver blades. Another stone (#6924-10 square stone) that puts a flat edge on the tip of the blade. With this tool, you can save on buying replacement blades and have fewer scratches on screws and bridges.
BERG-6924
$899.95
Bergeon 6924-11 Replacement Round Stone For Sharpener 6924
Bergeon 6924-10 Replacement Square Stone For Sharpener 6924

Screwdrivers, Watchmakers
Bergeon Non-Magnetic Screwdrivers & Blades


Economy Reversible Screwdriver Blade Refills
Click here for Economy Reversible Screwdriver Blade Refills.



Stainless Steel Screwdriver Blades from Bergeon
Stainless Steel Blades developed for today's modern Swiss Watches with stainless steel screws. Try some of the original blades as well, so you can decide which works best for your needs.