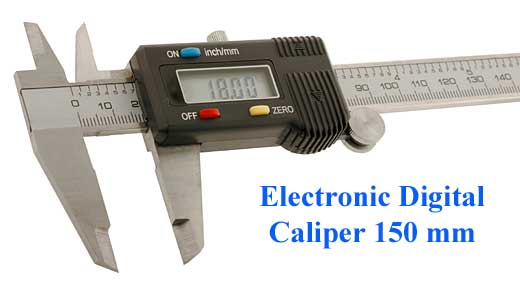 Electronic Digital Caliper Black 150 mm
| | | |
| --- | --- | --- |
| | Electronic caliper made of hardened steel. Delivered in a synthetic case. Capacity: 150 mm. | |

Ruler Stainless Steel
| | | |
| --- | --- | --- |
| | Every shop needs one of these rulers, measures millimeters in 0.1 and inches by 16ths. | |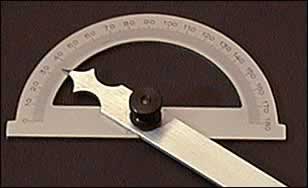 Bevel Gauge, From Bergeon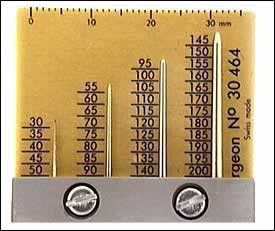 Bergeon 30464 Gauge for Measuring Hand Hole Diameters
| | | |
| --- | --- | --- |
| | Bergeon hand gauge hole sizes .30 to 2.0 mm. Swiss made. | |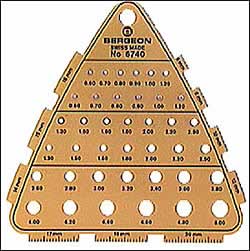 Bergeon 6740 Crown, Stem, and Case Tube Gauge
| | | |
| --- | --- | --- |
| | This handy Bergeon gauge should be on every watchmakers bench. Now you can measure the stem size, crown tap, crown diameter, crown opening, case tube diameter, and strap lug width with one single tool. Dimensions: 85 x 85 x 85 x 1 mm. | |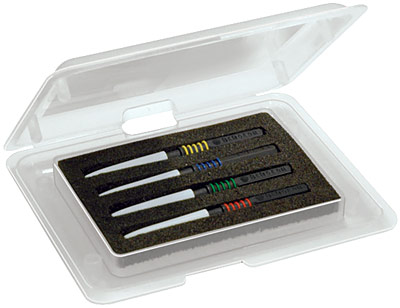 Bergeon 7941 Set of 4 Linear Force Gauges
| | | |
| --- | --- | --- |
| | Set of 4 linear force gauges to allow the fixation control of applied chapters and hour indexes. | |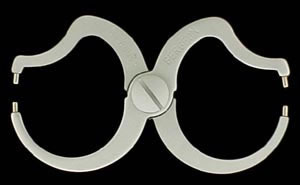 Bergeon Truing Caliper 4000
| | | |
| --- | --- | --- |
| | Caliper with steel points on both ends. Light type For timer. Pivot protectors in steel. | |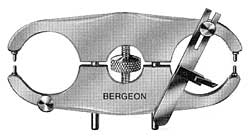 Bergeon Truing Caliper 1884
| | | |
| --- | --- | --- |
| | Special order only, please allow 6 to 8 weeks for delivery. Small model with parellel opening. Pivot proctectors in steel with slide, carefully made. Pivot diameter .12 mm. | |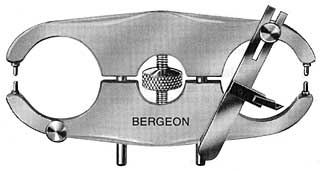 Bergeon Truing Caliper 1883
| | | |
| --- | --- | --- |
| | Special order only, please allow 6 to 8 weeks for delivery. Large model with parellel opening. Pivot proctectors in steel with slide, carefully made. Pivot diameter .15 mm. | |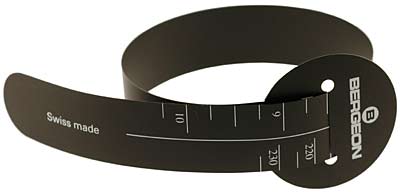 Bergeon 6789 Flexible Measuring Band For Wrists
| | | |
| --- | --- | --- |
| | Resistant synthetic material. It fits easily to the wrist. Graduated in mm and inches. Easy use and measuring. Black in color. Goes up to 10 1/4" & 235MM. | |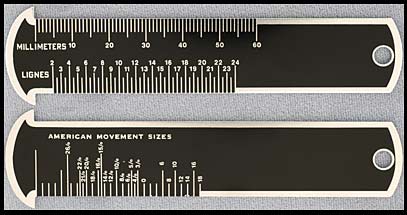 Movement Ligne and American Size Gauge
Gauge measures in watch lignes sizes and millimeters on one side, while the other side gives American watch movement sizes.

For measuring the diameter (0 to 60 mm) or the number of ligne sizes (2 to 24) of a movement. Length: 108 mm.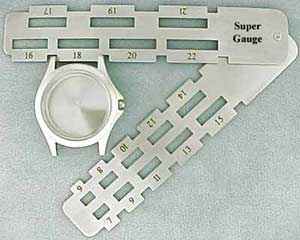 Watch Band Lug Size Gauge
What size strap do you need? With this handy gauge you would be able to answer that question in seconds. Made of 22 gauge sheet stainless steel this gauge will last a lifetime. Size the watch case lug or the watch band with this tool. Length: 125 mm. Graduations: 6 to 22 mm.



Measuring straps.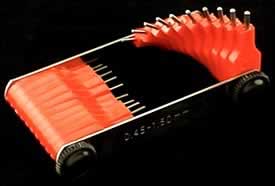 Positive Stop Pitch Gauge
| | | |
| --- | --- | --- |
| | Measure the diameter of any hole from 0.45 mm to 1.50 mm with this positive stop gauge by Bergeon. | |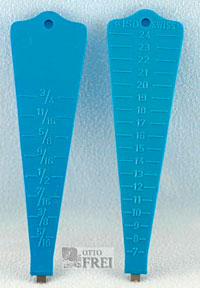 ISO Swiss Watch Band Lug Size Gauge, Blue
| | | |
| --- | --- | --- |
| | Size the watch case lug or the watch band with this tool. Length: 85 mm. Graduations: 7 to 24 mm and 5/16" to 3/4". Equipped with a small fork to remove/install some spring bars. Blue in color. | |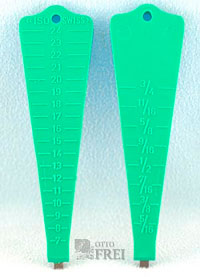 ISO Swiss Watch Band Lug Size Gauge, Green
| | | |
| --- | --- | --- |
| | Size the watch case lug or the watch band with this tool. Length: 85 mm. Graduations: 7 to 24 mm and 5/16" to 3/4". Equipped with a small fork to remove/install some spring bars. Green in color. | |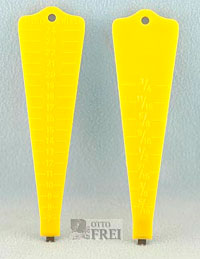 ISO Swiss Watch Band Lug Size Gauge, Yellow
| | | |
| --- | --- | --- |
| | Size the watch case lug or the watch band with this tool. Length: 85 mm. Graduations: 7 to 24 mm and 5/16" to 3/4". Equipped with a small fork to remove/install some spring bars. Yellow in color. | |