New Vintage ETA 2450 Complete Barrel w/Mainspring & Arbor
| | | |
| --- | --- | --- |
| | Also for ETA 2451, 2452, 2453, 2454, 2465, 2472, 2474, ETERNA 1436, Hamilton 63, Hamilton 64, Hamilton 649A, 677, 679, 689, 689A, 692, 694, 694A, Tudor 2461, Whyler WG215, WH214, WH217-217A, Elgin 709, 792, 858, 866, Benrus FE, FE-FE2D, 11Z2E, Juvenia 644 | |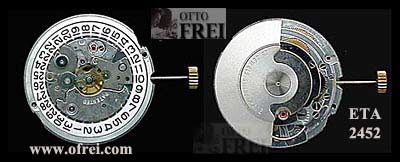 ETA 2452 Watch Movement2
11.5 ligne, 25 jewels, Screwless Balance, Incabloc shock protection, automatic, sweep seconds, date at 3 o'clock.

Hand sizes 90/150/22.

This new vintage ETA 2452 while sitting around for perhaps 40 to 50 years, runs well and with a light cleaning and new oil it should be good to go for some time.
Used ETA 2450 Complete Barrel w/Mainspring & Arbor
| | | |
| --- | --- | --- |
| | Also for ETA 2451, 2452, 2453, 2454, 2465, 2472, 2474, ETERNA 1436, Hamilton 63, Hamilton 64, Hamilton 649A, 677, 679, 689, 689A, 692, 694, 694A, Tudor 2461, Whyler WG215, WH214, WH217-217A, Elgin 709, 792, 858, 866, Benrus FE, FE-FE2D, 11Z2E, Juvenia 644 | |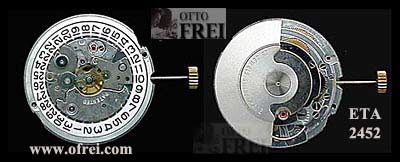 Vintage New ETA 2452 Watch Movement with Titoni on the Rotor
This new never used vintage ETA 2452 movement has the TITONI brand name engraved on the rotor. Once again this is a vintage movement that has been sitting in reserve in Switzerland for some 40 to 50 years. The Balance, appears fine and it will run only for a short while. It definitely now needs a good cleaning and some new oil to be at its best. Otherwise this movement contains a lot of valuable new parts found in many movements that are certainly hard to find these days.

11.5 ligne, 25 jewels, Balance with Screws, Incabloc shock protection, automatic, sweep seconds, date at 3 o'clock. Hand sizes 90/150/22.

The ETA 2452 movement was found in a lot of different watch brands watches. Basic parts found in this movement were also in ETA 2450, 2451, 2452, 2453, 2454, 2465, 2472, 2474, ETERNA 1436, Hamilton 63, Hamilton 64, Hamilton 649A, 677, 679, 689, 689A, 692, 694, 694A, Tudor 2461, Whyler WG215, WH214, WH217-217A, Elgin 709, 792, 858, 866, Benrus FE, FE-FE2D, 11Z2E, Juvenia 644