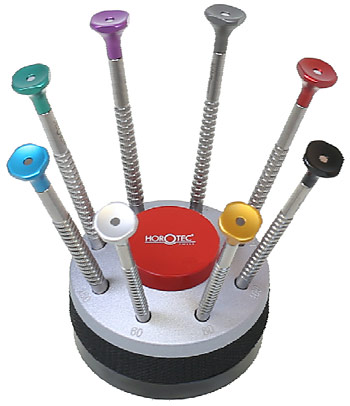 Horotec Micro Ball Bearing 8 Piece Watchmaker Screwdriver Set on Rotating Stand
| | | |
| --- | --- | --- |
| | These 8 screwdrivers have a newly redesigned stainless steel body with anodized aluminum Swivel Head that sits a top of and canal of Micro Ball Bearings allowing for a very smooth swivel rotation. Comes with 8 spare blades, which can be stored under the center cap of the rotating stand. Sizes of screwdrivers are 0.60 mm, 0.80 mm, 1.00 mm, 1.20 mm, 1.40 mm, 1.60 mm, 2.00 mm, and 2.50 mm. Non-skid base. | |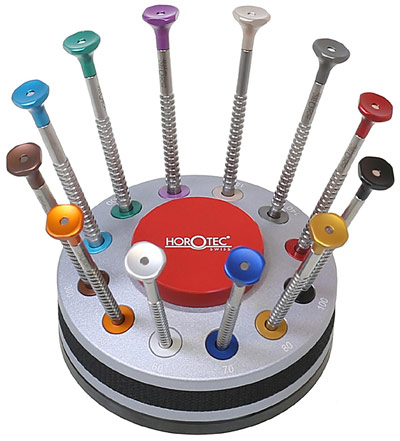 Horotec Micro Ball Bearing 12 Piece Deluxe Screwdriver Set
| | | |
| --- | --- | --- |
| | Some think this is the best set on the market, without a Bergeon name plate on it. These 12 screwdrivers have a newly redesigned stainless steel body with anodized aluminum Swivel Head that sits a top of and canal of Micro Ball Bearings allowing for a very smooth swivel rotation. Comes with 12 spare blades, which can be stored under the center cap of the rotating stand. The rotating stand weighs about 1 1/2 pounds, which is heavier and wider than the conventional rotating stand. The heavy weight and wide stance of the stand helps stabilize the screwdriver set, so that the set won't knock over as easily as other conventional screwdriver sets on rotating stands. The color coded holes help identify your screwdrivers faster. Sizes of screwdrivers are 0.50 mm, 0.60 mm, 0.70 mm, 0.80 mm, 1.00 mm, 1.20 mm, 1.40 mm, 1.50 mm, 1.60 mm, 2.00 mm, 2.50 mm, and 3.00 mm. Non-skid base. | |


Swiss Made, Individual Deluxe Micro Ball Bearing Screwdrivers & Replacement Blades
Click Here For Individual Sizes



Horotec Ball Bearing Individual Screwdriver with Replacement Blades
Click Here For Individual Horotec Ball Bearing Individual Screwdriver Sizes



Horotec Newly Redesigned Micro Ball Bearing Screwdriver, Individual Sizes & Replacement Blades
Click here for individual sizes.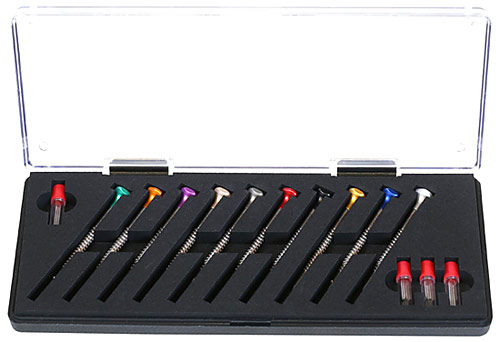 Horotec Newly Redesigned 10 Piece Screwdriver Set with Pre-Formed Curvature Screwdriver Blades in Protective Foam Storage Tray
Swiss Made Set of 10 Horotec Ball Bearing Screwdrivers, newly redesigned stainless steel knurled handle with pre-formed curvature screwdriver blades, comes in a plastic protective foam storage tray with one replacement blade of each size. Sizes: 0.60, 0.70, 0.80, 1.00, 1.20, 1.40, 1.50, 1.60, 1.80, and 2.00 mm.

With this set, you will no longer need the tool MSA01502 to sharpen your standard blades to the perfect curvature. Pre-formed curvature replacement screwdriver blades can also be purchased and will fit your standard Horotec ball bearing screwdrivers.


Horotec Individual Micro Ball Bearing Curvature Blade Screwdriver & Replacement Blades
Click here for Individual Screwdriver Sizes and replacement blades.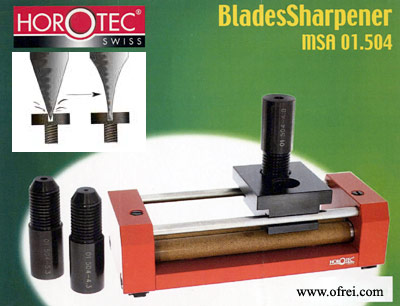 Horotec Screwdriver Sharpener For Watchmakers Who Work On High Grade Watches
It takes a special sharpener to sharpen the perfect shape screwdriver blade. If you are working on high grade watches you might want to consider one of these. Three special bits with hole diameter 4.3 mm, 4.8 mm, and 5.3 mm can hold each of the ten sizes in correct alignment against the rounded stone.

Tool comes with 3 stones that can be replaced when worn. Two of the stones are round part number MSA01.502-A and one square stone number part number MSA01.502-B.
Set of Two Round Stones For Horotec Screwdriver Sharpener MSA01502
| | | |
| --- | --- | --- |
| | Special order item, please allow 4-6 weeks for delivery. | |
Replacement Square Stone For Horotec Screwdriver Sharpener MSA 16.002
| | | |
| --- | --- | --- |
| | Special order item, please allow 4-6 weeks for delivery. | |
Horotec Newly Redesigned Ball Bearing Screwdriver Fixing Screw
| | | |
| --- | --- | --- |
| | Fixing screw fits the Horotec newly redesigned ball bearing screwdrivers. For 01.214 and 01.218 line of screwdrivers. Also works for the 01.201, 01.203, and 01.207 line of screwdrivers. | |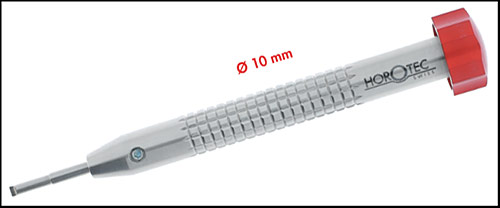 Horotec Large Watchmaker Screwdriver with 1.50 mm Curvature Blade
| | | |
| --- | --- | --- |
| | Horotec Swiss made large watchmaker screwdriver features a knurled 10mm diameter stainless steel handle with a 19 mm red anodized aluminum red head mounted on ball bearings. The blade used in this screwdriver has a 3 mm body and reduces down to 1.50 mm at the tip, so the blade can be interchanged with any one of the MSA 01.019 series blades. | |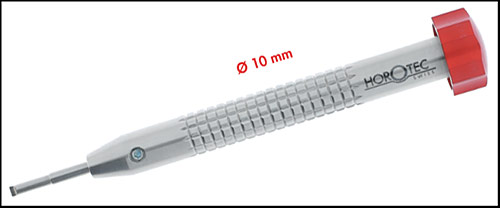 Horotec Large Watchmaker Screwdriver with 2.00 mm Curvature Blade
| | | |
| --- | --- | --- |
| | Horotec Swiss made large watchmaker screwdriver features a knurled 10mm diameter stainless steel handle with a 19 mm red anodized aluminum red head mounted on ball bearings. The blade used in this screwdriver has a 3 mm body and reduces down to 2.00 mm at the tip, so the blade can be interchanged with any one of the MSA 01.019 series blades. | |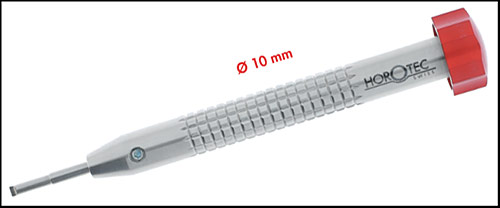 Horotec Large Watchmaker Screwdriver with 2.50 mm Curvature Blade
| | | |
| --- | --- | --- |
| | Horotec Swiss made large watchmaker screwdriver features a knurled 10mm diameter stainless steel handle with a 19 mm red anodized aluminum red head mounted on ball bearings. The blade used in this screwdriver has a 3 mm body and reduces down to 2.50 mm at the tip, so the blade can be interchanged with any one of the MSA 01.019 series blades. | |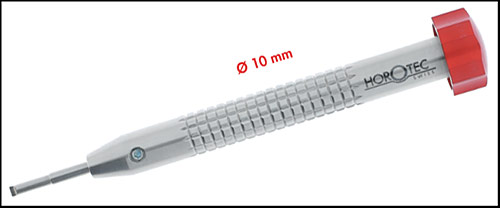 Horotec Large Watchmaker Screwdriver with 3.00 mm Curvature Blade
| | | |
| --- | --- | --- |
| | Horotec Swiss made large watchmaker screwdriver features a knurled 10mm diameter stainless steel handle with a 19 mm red anodized aluminum red head mounted on ball bearings. The blade used in this screwdriver is 3 mm in diameter, so the blade can be interchanged with any one of the MSA 01.019 series blades. | |
Replacement Curvature Blade for MSA 01.018 Screwdriver 1.50 mm
| | | |
| --- | --- | --- |
| | Body Diameter: 3.00 mm, Tip Diameter: 1.50 mm. | |
Replacement Curvature Blade for MSA 01.018 Screwdriver 2.00 mm
| | | |
| --- | --- | --- |
| | Body Diameter: 3.00 mm, Tip Diameter: 2.00 mm. | |
Replacement Curvature Blade for MSA 01.018 Screwdriver 2.50 mm
| | | |
| --- | --- | --- |
| | Body Diameter: 3.00 mm, Tip Diameter: 2.50 mm. | |
Replacement Curvature Blade for MSA 01.018 Screwdriver 3.00 mm
| | | |
| --- | --- | --- |
| | Body Diameter: 3.00 mm, Tip Diameter: 3.00 mm. | |


French Made Screwdrivers For Watchmakers
Click Here For French Made Screwdrivers For Watchmakers



Bergeon Swiss Made Watchmakers Screwdrivers
Click Here For Bergeon Swiss Made Watchmakers Screwdrivers