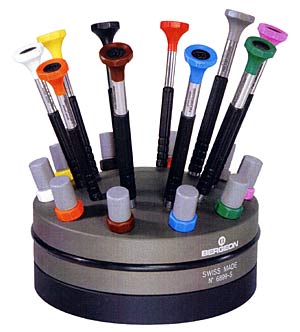 Bergeon 6899-S10 Watchmakers Ergonomic 10 Piece Screwdriver Set with Deluxe Heavyweight Stand
Attention All Watchmakers! Bergeon has launched one of the most comfortable screwdriver set to date. It has everything the FB-1200 offer and more. Simply put, this is the best of the best. So why not treat yourself with this wonderful 10 piece screwdriver set.

The New Bergeon Ergonomic Screwdriver Set combines both technical quality and comfort of use. The screwdrivers are provided with an elastomer membrane (rubber-like-feel) handle, which assures an ideal contact between the tool and the hand.

Sizes of screwdrivers are .50 mm, .60 mm, .80 mm, 1.00 mm, 1.20 mm, 1.40 mm, 1.60 mm, 2.00 mm, 2.50 mm, and 3.00 mm. Also comes with replacement stainless steel blades for all screwdrivers.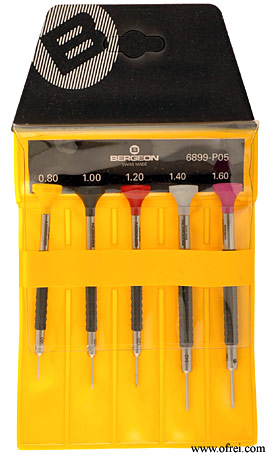 Bergeon 6899-P05 Set of 5 Ergonomic Screwdrivers
| | | |
| --- | --- | --- |
| | Set consists of 5 Bergeon 6899 Ergonomic series screwdrivers (sizes: 0.80, 1.00, 1.20, 1.40, 1.60 mm). The New Bergeon Ergonomic Screwdriver Set combines both technical quality and comfort of use. The screwdrivers are provided with an elastomer membrane (rubber-like-feel) handle, which assures an ideal contact between the tool and the hand. | |

Individual 0.50 mm Bergeon Ergonomic Screwdriver
| | | |
| --- | --- | --- |
| | Size: 0.50 mm. Blade is made of stainless steel | |
Bergeon Stainless Steel Screwdriver Blade 0.50 mm
Bergeon Stainless Steel Screwdriver Blade 0.50 mm in Tube
| | | |
| --- | --- | --- |
| | Size: 0.50 mm. Tube contains 2 stainless steel blades. | |

Individual 0.60 mm Bergeon Ergonomic Screwdriver
| | | |
| --- | --- | --- |
| | Size: 0.60 mm. Blade is made of stainless steel | |
Bergeon Stainless Steel Screwdriver Blade 0.60 mm
Bergeon Stainless Steel Screwdriver Blade 0.60 mm in Tube
| | | |
| --- | --- | --- |
| | Size: 0.60 mm. Tube contains 2 stainless steel blades. | |

Individual 0.80 mm Bergeon Ergonomic Screwdriver
| | | |
| --- | --- | --- |
| | Size: 0.80 mm. Blade is made of stainless steel | |
Bergeon Stainless Steel Screwdriver Blade 0.80 mm
Bergeon Stainless Steel Screwdriver Blade 0.80 mm in Tube
| | | |
| --- | --- | --- |
| | Size: 0.80 mm. Tube contains 2 stainless steel blades. | |

Individual 1.00 mm Bergeon Ergonomic Screwdriver
| | | |
| --- | --- | --- |
| | Size: 1.00 mm. Blade is made of stainless steel | |
Bergeon Stainless Steel Screwdriver Blade 1.00 mm
Bergeon Stainless Steel Screwdriver Blade 1.00 mm in Tube
| | | |
| --- | --- | --- |
| | Size: 1.00 mm. Tube contains 2 stainless steel blades. | |

Individual 1.20 mm Bergeon Ergonomic Screwdriver
| | | |
| --- | --- | --- |
| | Size: 1.20 mm. Blade is made of stainless steel | |
Bergeon Stainless Steel Screwdriver Blade 1.20 mm
Bergeon Stainless Steel Screwdriver Blade 1.20 mm in Tube
| | | |
| --- | --- | --- |
| | Size: 1.20 mm. Tube contains 2 stainless steel blades. | |

Individual 1.40 mm Bergeon Ergonomic Screwdriver
| | | |
| --- | --- | --- |
| | Size: 1.40 mm. Blade is made of stainless steel | |
Bergeon Stainless Steel Screwdriver Blade 1.40 mm
Bergeon Stainless Steel Screwdriver Blade 1.40 mm in Tube
| | | |
| --- | --- | --- |
| | Size: 1.40 mm. Tube contains 2 stainless steel blades. | |

Individual 1.60 mm Bergeon Ergonomic Screwdriver
| | | |
| --- | --- | --- |
| | Size: 1.60 mm. Blade is made of stainless steel | |
Bergeon Stainless Steel Screwdriver Blade 1.60 mm
Bergeon Stainless Steel Screwdriver Blade 1.60 mm in Tube
| | | |
| --- | --- | --- |
| | Size: 1.60 mm. Tube contains 2 stainless steel blades. | |

Individual 2.00 mm Bergeon Ergonomic Screwdriver
| | | |
| --- | --- | --- |
| | Size: 2.00 mm. Blade is made of stainless steel | |
Bergeon Stainless Steel Screwdriver Blade 2.00 mm
Bergeon Stainless Steel Screwdriver Blade 2.00 mm in Tube
| | | |
| --- | --- | --- |
| | Size: 2.00 mm. Tube contains 2 stainless steel blades. | |

Individual 2.50 mm Bergeon Ergonomic Screwdriver
| | | |
| --- | --- | --- |
| | Size: 2.50 mm. Blade is made of stainless steel | |
Bergeon Stainless Steel Screwdriver Blade 2.50 mm
Bergeon Stainless Steel Screwdriver Blade 2.50 mm in Tube
| | | |
| --- | --- | --- |
| | Size: 2.50 mm. Tube contains 2 stainless steel blades. | |

Individual 3.00 mm Bergeon Ergonomic Screwdriver
| | | |
| --- | --- | --- |
| | Size: 3.00 mm. Blade is made of stainless steel | |
Bergeon Stainless Steel Screwdriver Blade 3.00 mm
Bergeon Stainless Steel Screwdriver Blade 3.00 mm in Tube
| | | |
| --- | --- | --- |
| | Size: 3.00 mm. Tube contains 2 stainless steel blades. | |

Screwdrivers, Watchmakers