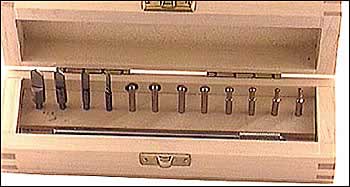 Bergeon 30006 Set of Counter-Sinks in Wood Box
This Swiss-made set of four V-blade and eight wheel-type countersinks is a gem of a set. Used to chamfer or bevel the edges of holes in plates and bridges, it is worth every penny and more.

Assortment of 12 countersinks, with holder " 4.7 mm, without fixing screw, conical adjustment. In wooden case. 8 wheel countersinks and 4 pin chamferers.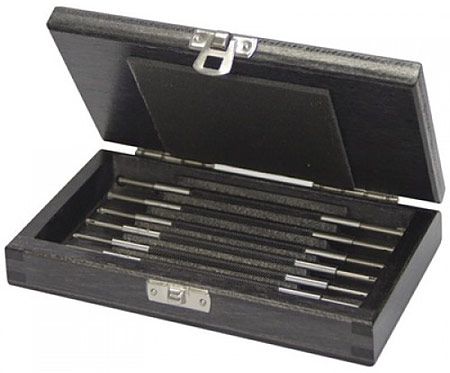 Bergeon 1898 Set of Double End Wheel Countersinks in Wood Box
| | | |
| --- | --- | --- |
| | This Swiss-made set of six double end wheel-type countersinks is a fine set. Made of hardened steel, these first quality countersinks are supplied in a wooden storage box. Sizes range from 1.8 mm in diameter to 5.0 mm. | |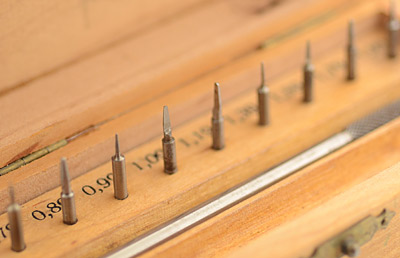 Used Set Of Countersinks Pin Chamferers
USED-CHAMFERERS
$48.95


Bergeon 1898-1 Size 1.8/2.1 mm Double End Wheel Countersinks
| | | |
| --- | --- | --- |
| | Double ended countersink with 1.80 mm small wheel and a 2.1 mm diameter large wheel on the other end. | |

Bergeon 1898-2 Size 2.5/2.8 mm Double End Wheel Countersinks
| | | |
| --- | --- | --- |
| | Double ended countersink with 2.50 mm small wheel and a 2.8 mm diameter large wheel on the other end. | |

Bergeon 1898-3 Size 3.0/3.3 mm Double End Wheel Countersinks
| | | |
| --- | --- | --- |
| | Double ended countersink with 3.0 mm small wheel and a 3.3 mm diameter large wheel on the other end. | |

Bergeon 1898-4 Size 3.5/3.8 mm Double End Wheel Countersinks
| | | |
| --- | --- | --- |
| | Double ended countersink with 3.50 mm small wheel and a 3.8 mm diameter large wheel on the other end. | |

Bergeon 1898-5 Size 4.0/4.3 mm Double End Wheel Countersinks
| | | |
| --- | --- | --- |
| | Double ended countersink with 4.0 mm small wheel and a 4.3 mm diameter large wheel on the other end. | |

Bergeon 1898-6 Size 4.50/5.0 mm Double End Wheel Countersinks
| | | |
| --- | --- | --- |
| | Double ended countersink with 4.50 mm small wheel and a 5.0 mm diameter large wheel on the other end. | |