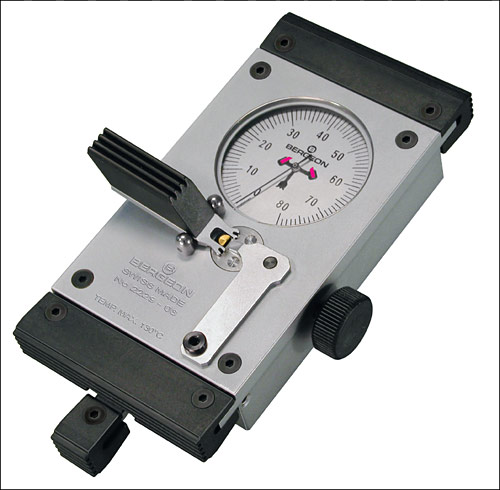 Bergeon 2229-03 Escapement Tester, Replaced By 3229
Apparatus allowing a very precise adjustment of pallets-stones length.
Characteristics:
- Allows the adjustment of all pallets listed.
- Pallets gripping by spring lever.
- Lifting-adjustment by knurledknob.
- Pallet's support plate, in stainless steel, with 2 centrings allowing to adapt the Ø of the pallet-staff.
- Dial with hands with graduation at 0.01 mm.
- Contact zone in synthetic material resistant to high temperatures 150°C.
- Working temperature ~1300C. Dimensions: 45 x 90 x 27 mm.
BERG-3229
$1,321.65
Special order item, please allow 4-6 weeks for delivery. Credit Card are not billed for special order items until they are shipped.