Guide Lines For Selecting Hairsprings For Swiss Wrist Watches
System developed in 1947
For use on spilt or solid balances with screws
The selection of the proper hairspring can be accomplished by either of the following methods:
1 - By measuring the diameter of the balance wheel and selecting the proper hairspring for that diameter wheel.
Be aware that this is only a guide to the selection of the correct hairspring for these two reasons
(a) While many movements are of the same ebauche caliber and consequently are identical, still the balance wheel diameter may vary depending on the individual importer.
(b) Balance wheels of the same diameter may vary in weight due to the diameter of the outside rim, number of screws, material it is constructed (brass, bi-metal, etc.), and the type of wheel (split or solid).
However, the difference between the various balance wheel sizes for the same ebauche-model will be in most cases not exceed one hairspring number.
Hairspring Numbers
This hairspring numbering system was established in 1947 after 25 years of intensive research in the field of hairsprings vibrating. They claim the progressive series of numbers indicates the increasing strength of the spring. I think also that the size increases as well. The numbers are arranged progressively to increase the ease with which a hairspring may be selected. For example hairspring No. 7 is stronger than No. 6; and when both are vibrated on the same balance wheel, the No. 7 will give the larger diameter.
Selecting A Hairspring
A summary of the factors involved the selecting the proper hairspring:
(a) Diameter of Hairspring
The correct outside diameter of a flat hairspring is determined by the distance between the center of the balance hole jewel and the inside of the regulator pin, minus one-half coil to allow for play while the movement is in motion.
(b) Strength of Hairspring
The strength of a hairspring is determined by the weight of the particular balance wheel, plus available space, as mentioned in the preceding paragraph.
(c) Weight of Balance Wheel
The specific weight of a balance wheel is determined by the diameter of the outside rim of the wheel, the number of screws, material it is constructed (brass, bi-metal, etc.), and the type of wheel (split or solid).
(d)The Direction of the Colleting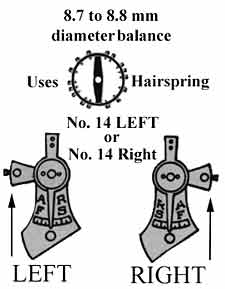 Left or Right Colleting .