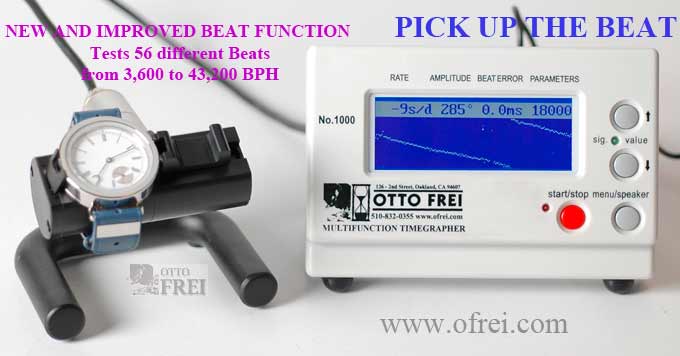 The New & Improved Otto Frei Watch Timing Machine Multifunction Timegrapher MTG 1000
Test and displays Amplitude, along with displaying on the LCD screen the beat noise, rate in seconds per day is displayed as either fast or slow and the beat error in "ms" milli-seconds is also tested. Automatically discovers 9 different beat rates 12,000 14,400, 18,000, 19800, 21600, 25200, 28800, 36000 and 43,200 bph. Those 9 beat rates are automatically identified by this tester in just a few seconds or you can change and manually set the beat rate to be tested. This new improved 1000 Timer can test 56 different beat rates from super slow 3,600 BPH to ultra fast 43,200 BPH by manually selecting the rate. The lift angle is pre-set to default value of 52 degrees. If you know the correct lift angle of the watch you are testing you can manually set the correct lift angle to get the most accurate Amplitude measurement possible. Uses the standard microphone rotates to six different positions and opens to 50 mm wide. The power supply is single phase AC110V-250V, power consumption is about 8 watts. Comes with one year warranty
Displays daily rate in seconds per day (+/-300 s/d), Accurate to (+/-1 s/d).
Amplitude: 100 - 350 degree, allowable tolerance (+/-3 degree).
Beat error: 0-4.0ms, allowable tolerance (+/-0.1ms).
Life angle: 30-60 degree, ex-works value: 52 degree.
While testing using the tester, you can hear the sound of the beat noise from a built in speaker, you can turn on and off the sound as you wish. Amplitude reading is taken with the watch in the horizontal position (dial up or dial down) a good amplitude reading would be in the 275 to 315 range. While it is not necessary to know the correct lift angle of the balance to get an accurate timing reading to get an accurate Amplitude reading you do have to set the machine to the correct lift angle of the balance of the movement being tested for Amplitude. Comes with 1 year warranty.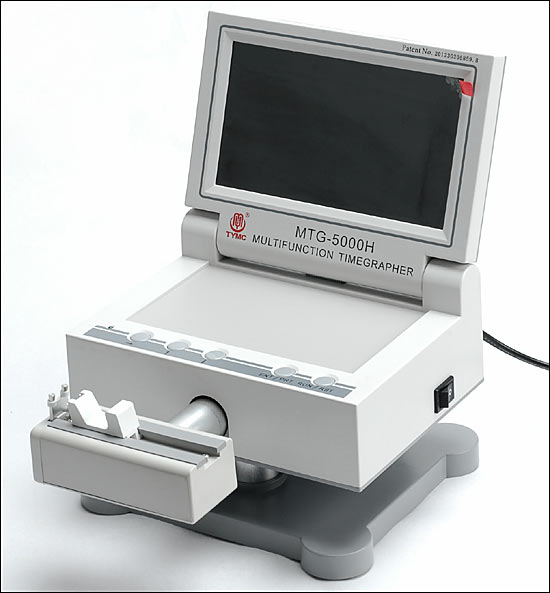 $1,400.00 $1,099.00 On Sale!
TYMC Watch Tester MTG-5000H
High definition color display.


The TYMC Timers can test six different beat rates from (18000, 19800, 21600, 25200, 28800, 36000 BPH) of mechanical watches. Most watches made since 1920 beat at one of these BPH. Before Edward Howard created the first 18,000 BPH watch in the 1880s most watches beat at 14,400 BHP. Once Howard introduced the 18,000 BPH watch almost all watch companies started making 18,000 BPH watches. However for a period of time most companies produced some models in both 14,400 BPH and 18,000 BPH versions. If you have some early American Pocket Watches from the 1850s to 1920s it is very likely the beat rate is below 18,000 BPH and will not test on the TYMC timers. All machines come factory calibrated at 18.0000 mhz. The frequency, may drift after a few years and by using a frequency meter you can recalibrate the timer to 18.0000 mhz. Frequency meter not supplied with machine.

The timegrapher MTG-5000H is used to test the performances of mechanical watches. It is a high-grade model of the MTG-H series which has higher test accuracy and more powerful functions.

There are the displays of diagrams of beat noise, the numerical values of rate, amplitudes and beats errors, adding the maximum differences of rates and amplitudes among various positions when executing programmed testing. It serves the function of long-term monitoring of rate and amplitude. 960 dots extraordinary long diagram of beat noise can be displayed on the LCD. Test with +/- 0.2 seconds per day high degree of accuracy can be carried out. There is perfect print function, the diagram and values mentioned above all can be printed by heat sensitive printer (sold separately). It serves the functions of multi-rate display, time and calendar display, acoustic stimulation of beat noise. This tester is designed as an all-in-one structure. The machine, the power adapter, and the microphone are all combined onto one chassis. The new flip-screen protects the display from scratches and dusts when not in use.

TYMC Watch Tester with Printer MTG-9900A
This watch tester is the complete package for watchmakers. The MTG-9900A comes with a high definition LCD touchscreen with stylus pen, automatic microphone, and compact automatic heat sensitive printer. The watch tester can test both normal and Co-Axial watches. The microphone can be set to automatically or manually move to 1-6 positions for testing.

Special order item. Please allow 4-6 weeks to arrive.

Technical specifications:
8 frequencies (12000, 14400, 18000, 19800, 21600, 25200, 28800, 36000) of mechanical watches made in everywhere can be tested. Selected automatically or manually.
Display Daily rate of watch in seconds per day (+/-300 s/d), accurate to (+/-1 s/d)
Beat error: 0-4.0ms, allowable tolerance (+/-0.1ms).
Amplitude: 90 - 350 degree, allowable tolerance (+/-3 degree).
Life angle: 20-70 degree
1600 dots extraordinary long diagram of beat noise can be displayed on the LCD
Printer uses direct thermal printing technology to print on heat sensitive paper.
The power supply: AC100V-240V.

Video demonstration of the touchscreen
Video demonstration of the microphone and printer
Video demonstration of rate and amplitude monitoring
Video demonstration of data storage
Video demonstration of microphone changing postion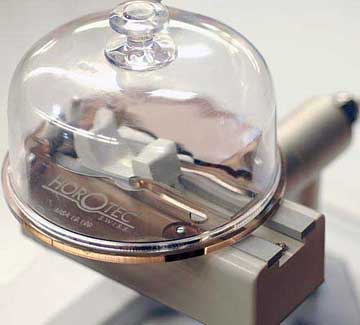 Horotec Dust Cover for MTG Timing Machine Microphone
| | | |
| --- | --- | --- |
| | The base of the cover fits perfectly on the microphone of the MTG-1000, MTG-3000, MTG-4000, and MTG-5000. The dust cover will prevent dust and dirt from getting onto your exposed movements and watches while you are away and not testing. | |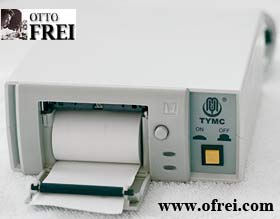 TYMC Printer For Watch Timers
This printer is for those who are required to keep or give out a printed record of the timing the watch they just serviced and timed. Most watch repair person are not required to show timing paper results while others are or like to be able to pass on the test results before and after servicing the watch. Uses direct thermal print technology to print directly onto heat sensitive paper.

Works with the MTG-3000 (b/w display model now discontinued), the color MTG-4000 and MTG-5000 watch timers.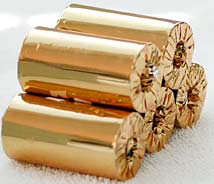 Five Rolls of TYMC Printer Paper
| | | |
| --- | --- | --- |
| | Heat sensitive paper for TYMC printer. | |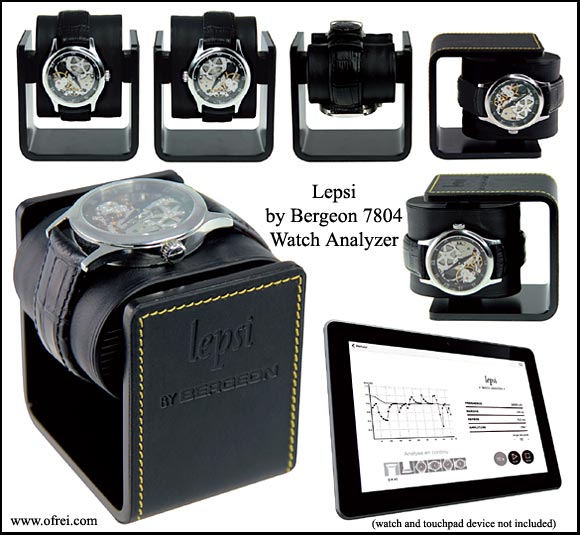 Lepsi by Bergeon Watch Analyzer
The Lepsi by Bergeon Watch Analyzer is accurate to an incredible precision of 0.1 second per day (s/d) when measuring the accuracy rate of your timepieces. You can make measurements over several seconds or for up to 24 hours, with a complete graphic report for any chosen time frame. Connect the watch analyzer to your touchpad device (smartphone or tablet) and adjust the watch to the desired test position, click on Start in the downloaded app, and the watch analyzer will take care of everything. The Lepsi by Bergeon watch analyzer can monitor a full watch collection and record all measurements in their databases. In that way, you can follow all your timepieces over the years and detect when each should be serviced. Records can be shared via E-mail, so a print out used for customer service is now a thing of the past. A watch analyzer based on the quartz clock will drift over time. To ensure the full quality of your measurements year after year, the Lepsi by Bergeon watch analyzer is calibrated against the atomic clock. All measurements can be backed up on the cloud to keep data available where and when needed, which is especially helpful when changing your smartphone or tablet.

Click here to download the user manual.

Compatibility: iOS 8 and above. Android 4.4 and above.

Connectivity: 3.5 mm jack, 4 poles (no separate AC supply)

Measuring range: Rate variation: -200s/d to +200s/d (resolution 0.1 sec/day)
Amplitude : 80° to 360° (resolution 1°)
Beat error : 0 to 10 milliseconds [ms] (resolution 0.1 ms)
Lift angle : Adjustable from 10° to 90°
Automatic vibration detection: 14400a/h to 36000a/h.

Dimensions: 73 x 60 x 80 mm.

Special order item, please allow 4-6 weeks for delivery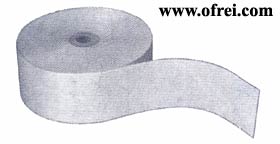 Vibrograf B200 & B300 Tming Machine Paper PA212
| | | |
| --- | --- | --- |
| | Blue tint pressure sensitive 36mm. | |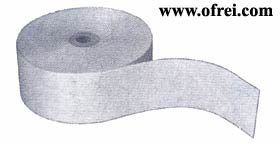 Tickoprint Timing Machine Paper PA70179B
| | | |
| --- | --- | --- |
| | Blue tint pressure sensitive 33mm. | |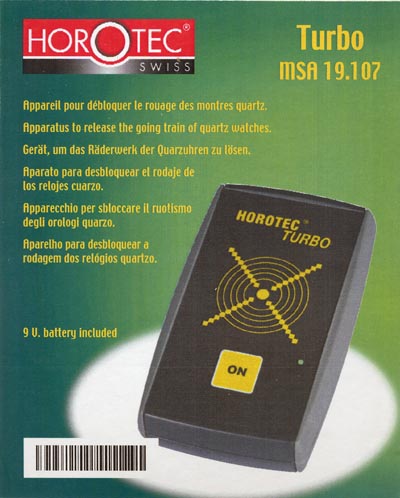 Horotec Quartz Watch Turbo Tester 19.107
This electronic apparatus tests the mechanical side of analogic quartz watch movements (wheel train).

The Horotec Turbo Tester gives powered magnetic impulsion for turning the wheel train and watch hands of the analog quartz watches without opening the watch case.

Do Not use for testing mechanical watches.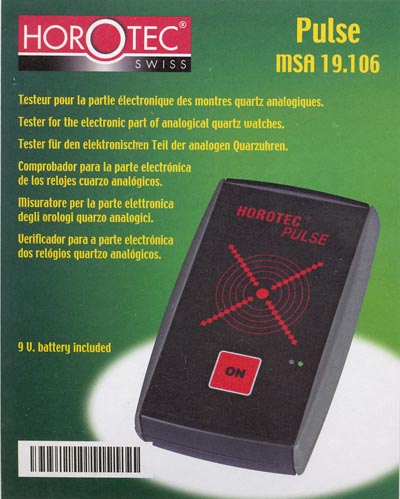 Horotec Quartz Watch Pulse Tester 19.106
This electronic apparatus tests the eletronic side of analogic quartz watch movements (coil/circuit).

The Horotec Pulse Tester intercepts impulsion coming from coil of the quartz movement. Light and sound comes on when a signal is picked up.

Do Not use for testing mechanical watches.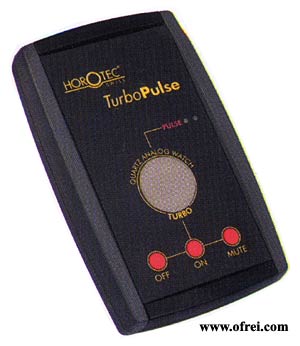 Horotec Turbo Pulse 19.110 for Quartz Watches
The electronic tester release the wheel train and test the electronic parts of quartz watches.

It determines if the coil/circuit is functioning; and also analyzes the wheel train of most quartz analog watch movements. This battery-operated tester is a pass/fail test for electronics of the movement. It also allows you to spin the hands to see if they are catching on anything as well as unjam the wheel train. Every watchmaker should have at least one of this tester. Very useful.

Voltage: 110v/220v. Dimensions: 90mm x 150mm x 30mm.
Do Not use for testing mechanical watches.
MSA 19.110
Has been discontinued by Horotec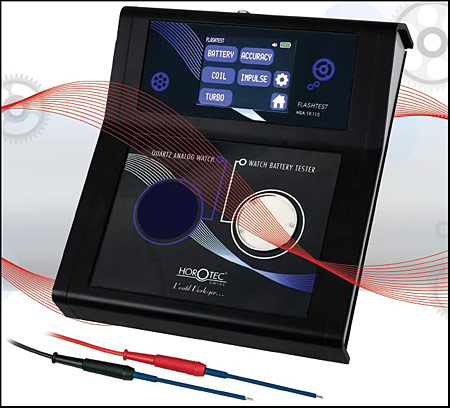 Horotec Flashtest 19.115 for Quartz Watches
The HOROTEC© Flashtest is an advanced, multifunctional and portable tester for analog quartz watches and movements. This handy, precision tester performs a variety of tests with both closed and open watchcases on analog quartz watches.

The HOROTEC© Flashtest can :
1. measure battery voltage from 0 to 19.99V
2. measure battery voltage under load from 0 to 19.99V
3. measure impulses from quartz watches to determine if a problem is electronic or mechanical
4. measure the continuity of the coil
5. measure the consumption of the electronic circuit to determine whether or not it needs replacement
6. measure the consumption of the movement to determine if there is any mechanical problem indicating the need for cleaning or adjustment
7. measure the accuracy of the analogue quartz watches.

The HOROTEC© Flashtest is supplied with two precision probes, a 9V adaptor (input 220/110V AC - output 9V DC), a 9V alkaline battery, an User's Manual and a Technical Guide, which contains the consumption and coil resistance data of the most common quartz movements.

Features a brand new LCD touchscreen for easy selections.

Voltage: 110v/220v. Dimensions: 155mm x 172mm x 55mm.
Do Not use for testing mechanical watches.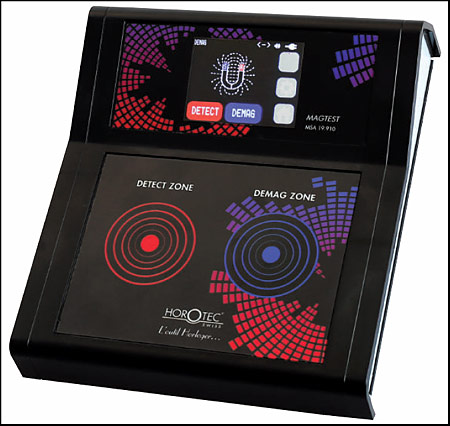 Horotec Magtest 19.910
Horotec Magtest is an electronic device for detecting magnetism, demagnetization and control of magnetic remanence of watches, movements, watchmaking tools, and parts. It combines the measurement function with the demagnetization function in a single device. Items are placed on the Detect Zone to detect magnetism and results are displayed on the LCD touch screen. Items are then moved to the Demag Zone to commence demagnetizing.

There are 5 sensors and one of them is located in the center of the detection zone. The others are located on the corners of a 1.5 cm square. They can measure the force of magnetism and the position. A dot on the LCD screen shows a sensor with its position and the dot size is proportional to the magnetic force. If the LCD screen displays the presence of magnetism without any magnetic objects on the surface of detection, it is recommended to make a manual zero setting by pushing the off button. Power adapter can take voltages ranging from 100 to 240 volts.