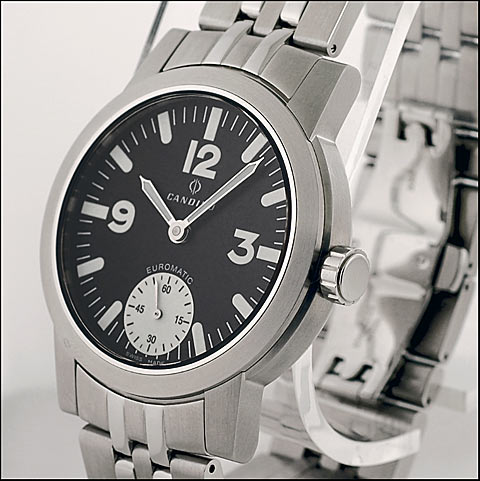 Candino, Swiss Made 42 mm Watch with ETA 6498-1 Movement, Black Dial and Sapphire Crystal
| | | |
| --- | --- | --- |
| | Solid Stainless Steel 42 mm Diameter Case and a deluxe Solid Links Stainless Steel 20 mm Lug Size Curved Bracelet with Hidden Butterfly Push Button Clasp. The dial features large luminous numbers easy to read both during the day or night, the white luminous sub second dial glows in the dark. The hour and minute hand are also luminous filled. The thickness of case is 9.85 mm and the crown diameter is 6.0 mm. The Candino Euromatic Case, for the manual wind ETA 6498-1 movement is water resistant to 10 ATM. A watch case alone of this quality alone would sell for $100 or more. Same with the stainless steel metal bracelet, similar to one which we sold for before for $100.00. Currently the ETA 6498-1 movement which is inside the watch sells for $186.00. This large heavyweight watch tips the scale at 172 grams, a little over 6 oz or 0.38% of a pound. The case and bracelet will fit wrist sizes up to 9 1/4 inches and the bracelet can be shorten by removing either the full size or half size links near the clasp. In all this watch is the real deal and at a fraction of the retail price selling in Europe which is close to 1,000 US dollars. | |
CANDINO-EURO-6498-SSBD
$298.00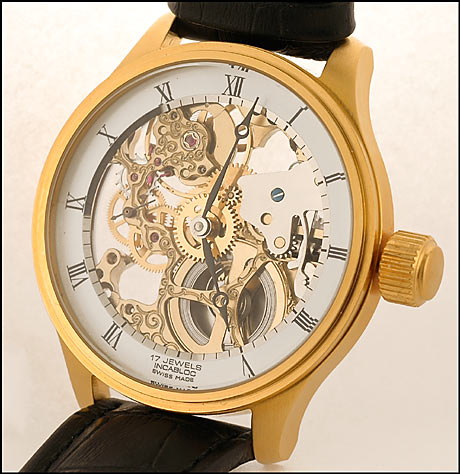 Oscar Swiss Made 48 mm Gold Plated Wrist Watch #2 with ETA 6497-1 Skeleton GP Movement, Roman Numerals and 22 mm Black Strap
48 mm Swiss Made Large Gold Plated Wrist Watch with Gold Plated Skeletonize ETA 6497-1 Movement. Black Roman Numerals on White Skeleton Dial Ring. 22 mm Black Leather Band.

Your Oscar timepiece is guaranteed against manufacturing defects from one year from date of purchase. The guarantee does not cover bracelets, crystals, wear to the case, moisture damage if non water-resistant model or Salt water or Chorine pool chemicals. Even water-resistant watches should never be worn while swimming or showering. Divers Watches need service to have the gaskets replaced every time they are used in salt water. This guarantee does not apply if there is evidence of misuse or abuse, including defects related to servicing done by non-authorized agents during the warranty period.


Supplied with Premium Rosewood Watch Box w/White Leatherette Lining.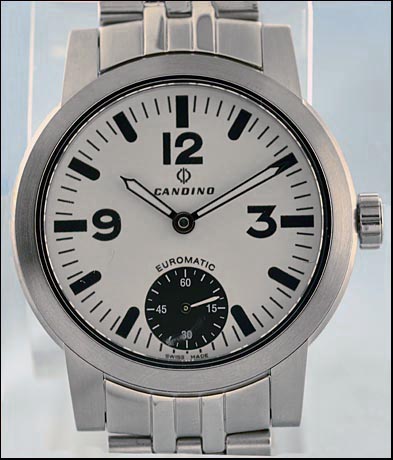 Candino, Swiss Made 42 mm Watch with ETA 6498-1 Movement, White Luminous Dial and Sapphire Crystal
| | | |
| --- | --- | --- |
| | First Quality Solid Stainless Steel 42 mm Diameter Case, and a heavy duty Solid Lug Stainless Steel 20 mm Lug Size Curved Bracelet with Hidden Butterfly Push Button Clasp. The White Dial will transform to give off a green glow in the dark that will allow for perfect reading of the numbers and luminous filled black trim hands The case is 9.85 mm thick and the crown diameter is 6.0 mm. The Candino Euromatic Case for the manual wind ETA 6498-1 movement is water resistant to 10 ATM. A watch case alone of this quality alone would sell for $100 or more. Same with the stainless steel metal bracelet, similar to one we sold for before for $100.00. Currently the ETA 6498-1 movement which is inside the watch sells for $186.00. This large heavyweight watch tips the scale at 172 grams, a little over 6 oz or 0.38% of a pound. The case and bracelet will fit wrist sizes up to 9 1/4 inches and the bracelet can be shorten by removing either the full size or half size links near the clasp. In all this watch is the real deal and at a fraction of the retail price selling in Europe which is close to 1,000 US dollars. | |
CANDINO-EURO-6498-SSWD
$298.00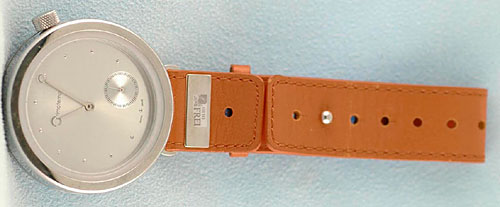 Choisi "Primotempo" Swiss Made 48 mm Stainless Steel Pocket Watch with ETA 6498-1 Hammer Finish NP Movement, 22 mm Tan Belt Strap (Sample-Line)
Choisi Manufacture Sample Line. Watches are not in brand new condition. Item may have minor nicks and scratches. Dial has some sort of dirt/grime at the one o'clock position.

48 mm Swiss Made Large Stainless Steel Pocket Watch with Nickel Plated ETA 6498-1 Hammer Finish Movement. Silver Dot Markers on Silver Dial. 22 mm Tan Leather Watch Fob.