Style #3C, Dumostar Dumont Tweezers, Swiss Made
FB-1601
Style #3C, Carbon Steel Dumont Tweezers, Swiss Made

Carbon Steel at Rockwell 60 is the hardest steel used in the original Dumont tweezer line. The hardest of carbon steel makes the tips more durable than stainless steel. The benefits of carbon steel comes with drawbacks as well. Carbon is stiffer than Stainless, however is more likely to break if stressed, easily magnetized and will rust and stain if used around chemicals or just plain water or even high humidity conditions. Watchmakers by taking proper care of cleaning, oiling and storing of carbon steel tweezers have been know to use the same tweezers for decades without replacing them.
Style #3C, Original Dumoxel (Anti-Mag Stainless) Dumont Tweezers, Swiss Made
$23.95 $22.68 On Sale!
FB-1603
Style #3C, Stainless Dumont Tweezers, Swiss Made
Style #3C, High Tech Non-Magnetic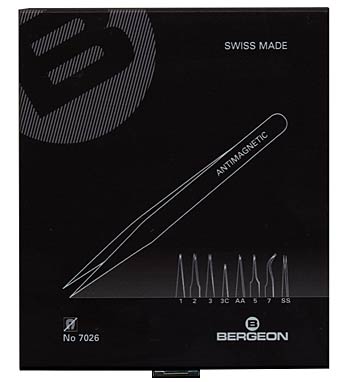 Bergeon Wood Box To Store Tweezers With Plastic Foam Insert
| | | |
| --- | --- | --- |
| | The inside of the box has a foam inserts to protect and organizes up to 8 tweezers. The dimensions of the storage box is 155 mm by 180 mm and is 30 mm thick. | |