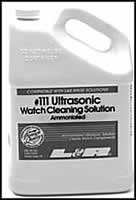 L & R Ultrasonic Watch Cleaning Solution
| | | |
| --- | --- | --- |
| | Designed for ultrasonic cleaning. This product can now be shipped as a OMR-D item, it can only be shipped by UPS ground in the contiguous 48 States. If you order this product your order will be shipped by UPS ground service. | |
LR-112
Manufacturer's Suggested List Price $55.00
Our Price: $47.50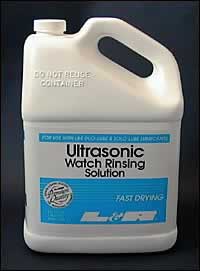 L & R Ultrasonic Watch Rinsing Solution
| | | |
| --- | --- | --- |
| | Fast drying. Will not break down. Perfect for ultrasonic cavitation. Can be used with all L&R Watch Cleaning Solutions. Ideal for use with all L&R Duo-Lube and Solo-Lube watch lubicants. L & R Ultrasonic Watch Rinsing Solution can now be shipped as a OMR-D item, it can only be shipped by UPS ground in the continuous 48 States. If you order this product, your order will be shipped by UPS ground service. | |
FB-331
Manufacturer's Suggested List Price $52.00
Our Price: $43.00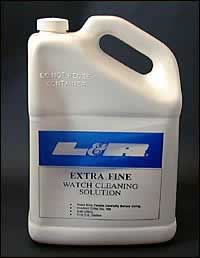 L & R Extra Fine Watch Cleaning Solution
| | | |
| --- | --- | --- |
| | Prevents varnish formation and gives the highest polish ever hoped for on watch parts. This product can now be shipped as a OMR-D item, it can only be shipped by UPS ground in the contiguous 48 States. If you order this product your order will be shipped by UPS ground service. | |
FB-330
Manufacturer's Suggested List Price $53.00
Our Price $46.50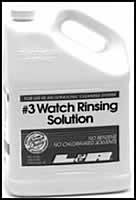 L & R #3 Watch Rinsing Solution
| | | |
| --- | --- | --- |
| | Standard Rinse designed to be used in Non-Ultrasonic Machines and Ultrasonic Machines, can also be used to rinse clock parts. Clear petroleum distillate specially refined by L&R. This product is respected and used the world over and contains no benzol or chlorinated solvents. Leaves no oily film. Quick drying. This product can now be shipped as a OMR-D item, it can only be shipped by UPS ground in the contiguous 48 States. If you order this product your order will be shipped by UPS ground service. | |
L & R #566 Ultrasonic Watch Cleaning Solution Non-Ammoniated
| | | |
| --- | --- | --- |
| | Designed for ultrasonic cleaning. This product can now be shipped as a OMR-D item, it can only be shipped by UPS ground in the contiguous 48 States. If you order this product your order will be shipped by UPS ground service. | |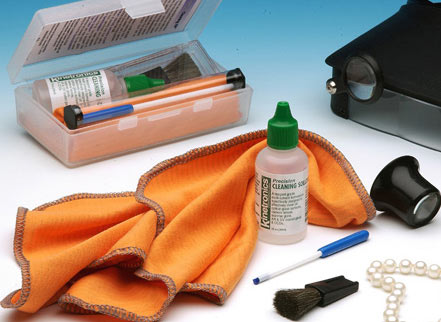 Cleaning Kit 1
Unique tools for removing dust, lint and specks from Watch Dials and Crystals, Loupes, Mocroscope Lenses, Cameras and Jewelry.

You get the SpeckGRABBER to pick up tiny particles from sensitve surfaces without leaving any residue, Anti-Static Cloth with tiny pockets in the Mircofiber to capture minute dust and dirt particles, Anti-Static Brush for hard to reach places and wisking dust away, Precision Cleaning Solution for use on optics, plastics, glass and jewelry. Everything you need packed in a durable storage box.


Everything you need to do the job right!
One Dip Hairspring Cleaner, One half-pint (8 oz)
| | | |
| --- | --- | --- |
| | This is a one half-pint bottle (8oz). The U.S. Department of Transportaion has classified this product as a OMR-D item and it can only be shipped by UPS ground in the contiguous 48 States. If you order this product your order will be shipped by UPS ground service. | |
One Dip Hairspring Cleaner, One Quart (32 oz)
| | | |
| --- | --- | --- |
| | This is a one quart can (32oz). The U.S. Department of Transportaion has classified this product as a OMR-D item and it can only be shipped by UPS ground in the contiguous 48 States. If you order this product your order will be shipped by UPS ground service. | |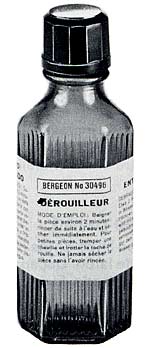 Bergeon 30496 Rust Remover
| | | |
| --- | --- | --- |
| | Bottle of 50 gram. Soak movement with rust remover for two minutes; then rinse with water and dry immediately. For small parts, wet the tip of a pegwood with the formula and rub the spot of rust; rinse and dry accordingly. Never dry the movement without having rinsed it. | |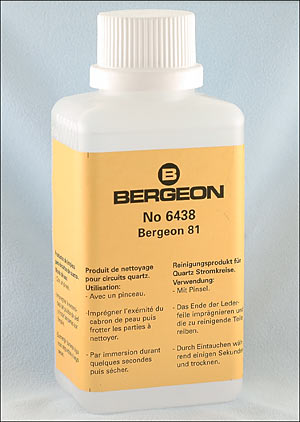 Bergeon 6438 Quartz Circuit Cleaning Solution
| | | |
| --- | --- | --- |
| | 250cc bottle. You can use the solution with a brush or dip the end of a leather buff in liquid and clean the parts that needs to be cleaned. You can also dip the part in the solution for a few seconds and then drying. | |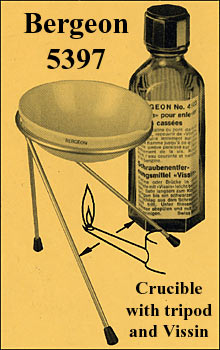 Bergeon 5397 Crucible with Tripod and Vissin
The complete set includes the crucible, tripod and Vissin (50ml).

Bergeon Vissin solution is specially formulated for removing broken screws, 50 ML. Very simple to use and rapid with results. The substance needs heating with the damaged part of the screw in the liquid as heat is applied.

Simply place a plate or bridge in a recipient and cover it with Vissin. Boil slowly until a black substance exudes from screw hole. Rinse in water and clean with benzine.

CAN NOT BE SHIPPED BY AIR, ONLY BY FEDEX GROUND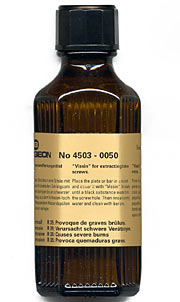 Bergeon 4503/50 Vissin Solution for Extracting Broken Screws, 50 ML
Bergeon Vissin solution is specially formulated for removing broken screws, 50 ML. Very simple to use and rapid with results. The substance needs heating with the damaged part of the screw in the liquid as heat is applied.

Simply place a plate or bridge in a recipient and cover it with Vissin. Boil slowly until a black substance exudes from screw hole. Rinse in water and clean with benzine.

CAN NOT BE SHIPPED BY AIR, ONLY BY FEDEX GROUND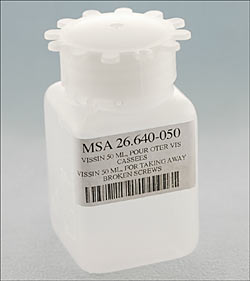 Vissin Solution for Removing Broken Screws, 50 ML
Vissin solution is specially formulated for taking away broken screws, 50 ML. Very simple to use and rapid with results. The substance needs heating with the damaged part of the screw in the liquid as heat is applied. Container measures 35 x 35 x 70 mm.

Simply place a plate or bridge in a recipient and cover it with Vissin. Boil slowly until a black substance exudes from screw hole. Rinse in water and clean with benzine.

CAN NOT BE SHIPPED BY AIR, ONLY BY FEDEX GROUND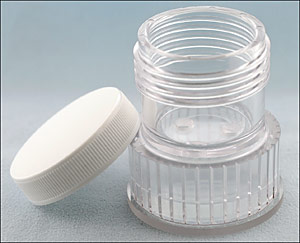 Soak and Coat Jar
| | | |
| --- | --- | --- |
| | This uniquely designed plastic jar is made for immersing and coating delicate parts to ensure total coating protection. Used in conjunction with a parts cleaning basket (sold separately), to keep small parts from falling into the bottom chamber. For use with Moebius-Fixodrop Epilame No 8940, 8941, 8950, 8951. | |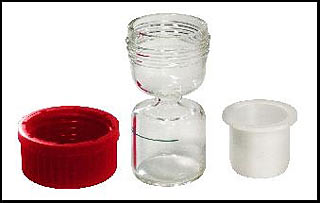 Bergeon 7066 Bottle for Epilame
| | | |
| --- | --- | --- |
| | Specially designed glass bottle for Epilame. For use with Moebius-Fixodrop No 8940, 8941, 8950, 8951. Comes with bottle, cap, and basket. | |

Cleaning Supplies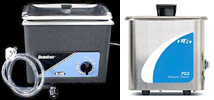 Cleaning Machines, Ultrasonic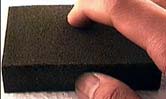 Satin Finish Bars & Wheels
L & R Clock Cleaning Solution Concentrate Gallon
| | | |
| --- | --- | --- |
| | Guaranteed maximum cleaning for ultrasonic, mechanical, or manual methods. Economical. One pint makes a gallon. Ammoniated water base is non-flammable. No cyanide. Completely safe. This product can now be shipped as a OMR-D item, it can only be shipped by UPS ground in the contiguous 48 States. If you order this product your order will be shipped by UPS ground service. | |
LR-134
Manufacturer's Suggested List Price $65.00
Our Price $58.00