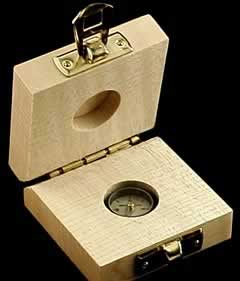 Bergeon 30103 Compass in a Box
This is not your dine store compass. A jewelled needle compass in a wooden box. Only Bergeon can offer you a product like this to check if a watch is magnetized. The chrome plated compass is only 13 mm in diameter. Every serious watchmakers should have one of these, and if you sell watches for $5,000.00 or more you should give you customer one of these as a gift.

Precision compass for testing magnetism; jewelled model sapphire on hardened steel point, chromium plated brass.

Principle: An object is magnetized when one end of the compass-needle is attracted and the other repelled by it. If the needle is attracted at both ends, there is no magnetism.

Bergeon 30104 Compass without Box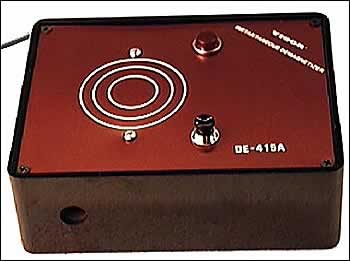 Top-Quality Demagnetizer for Watches and Parts
| | | |
| --- | --- | --- |
| | American made, the standard instantaneous demagnetizer works on tools and complete watches. Why not get the best product you can buy, after all it is a tax write-off too!. 115 volts 50-60 cycles. | |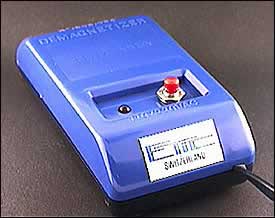 $68.95
Inexpensive Demagnetizer for Watches and Parts
The Etic, instantaneous demagnetizer is compact and powerful enough for it's intended use to demagnetize small parts and tweezers. You may need to push the button and rotate the item a few times. Always unplug and disconnect the unit from the main power supply, when not in use. Not recommended for use on complete watches still in their cases. While possible to work on some complete watches by rotating the case, on others the case can be just too large and thick for the demagnetizing to work. Removing the case back will help and then removing the movement from the watch. So, if all you want is a tool to demagnetize a complete watch without opening the case back, this is not the demagnetizer to get.

110v and 220v.
FB-118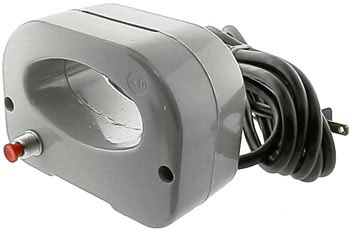 High Amperage Pass Through Demagnetizer
| | | |
| --- | --- | --- |
| | The unit has superior field strength due to the relatively high amperage that it draws. The consequence is fairly rapid heating of the field coil. It is recommended that a single duty cycle be limited to 5 seconds on and 3 minutes off, or three 5 seconds cycles on and 10 minutes off. This unit is wired with a thermal protector. If the above duty cycles are not observed, the thermostat may open and the unit will not operate until it has cooled sufficiently. Features a 1 1/2" X 3" opening. | |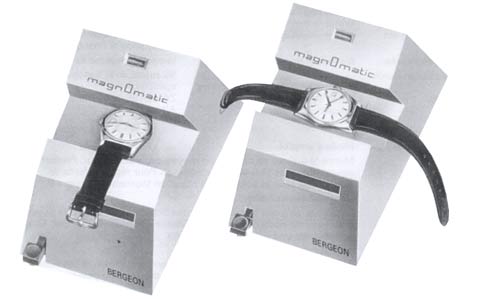 Magnomatic Electronic Demagnetizer
| | | |
| --- | --- | --- |
| | Electronic action is triggered within a fraction of a second by means of an alternating magnetic field of high frequency. Delicate parts, such as hairsprings, are not subject to any harmful mechanical forces. | |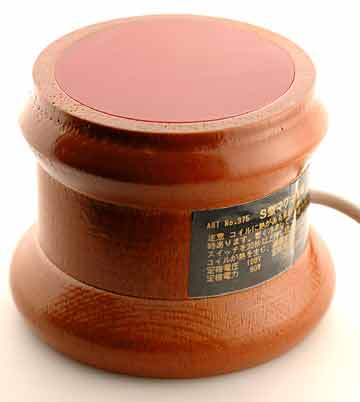 Seiko Demagnetizer
| | | |
| --- | --- | --- |
| | A beautifully designed wooden case surrounds this watch demagnetizer from Seiko. | |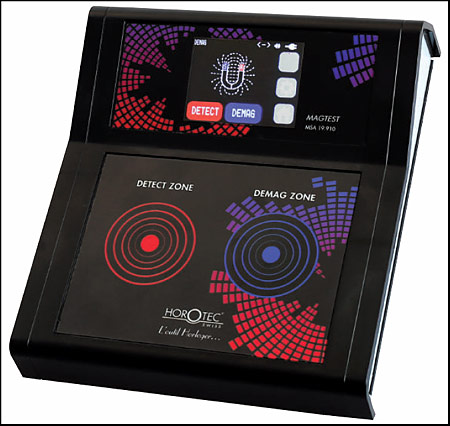 Horotec Magtest 19.910
Horotec Magtest is an electronic device for detecting magnetism, demagnetization and control of magnetic remanence of watches, movements, watchmaking tools, and parts. It combines the measurement function with the demagnetization function in a single device. Items are placed on the Detect Zone to detect magnetism and results are displayed on the LCD touch screen. Items are then moved to the Demag Zone to commence demagnetizing.

There are 5 sensors and one of them is located in the center of the detection zone. The others are located on the corners of a 1.5 cm square. They can measure the force of magnetism and the position. A dot on the LCD screen shows a sensor with its position and the dot size is proportional to the magnetic force. If the LCD screen displays the presence of magnetism without any magnetic objects on the surface of detection, it is recommended to make a manual zero setting by pushing the off button. Power adapter can take voltages ranging from 100 to 240 volts.