SELLITA SWISS MADE MECHANICAL WATCH MOVEMENTS
High Quality Swiss Made Movements at Affordable Prices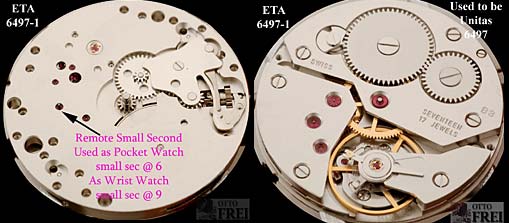 ETA Mechanical Watch Movements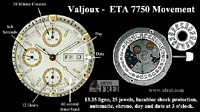 Valjoux Watch Movements
Peseux Watch Movements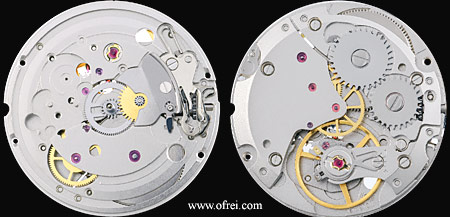 SELLITA Swiss Made SW210-1 Incabloc 19 Jewels Special Elaborate Version Watch Movement
The SELLITA SW210-1 is an improved clone version of the obsolete ETA 2801-2 movement. This manual handwinding 11.5 ligne movement, with 19 jewels features special elaborate 3 position regulation (CH, 6H, 9H, +/- 7 s/d) and the deluxe Incabloc shock system. Plates are Nickel with standard Sellita finish. Most parts are interchangeable with the ETA 2801-2. Hand sizes Minute 0.90 mm, Hour 1.50 mm and sweep 0.25 mm. 28,800 BPH, lift angle of balance 50, Amplitude Max. (CH oh) 320, Min. (6H 24h) 200.

Click here to download the SELLITA SW210-1 technical sheet and oil chart.
A. Schild Watch Movements
More Mechanical Watch Movements
Unitas Watch Movements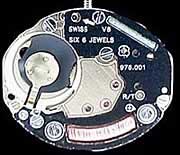 Quartz Watch Movements
ETA 976.001 only $59.95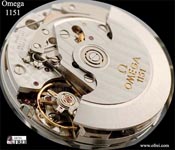 Omega Watch Movements
Miyota Mechanical Watch Movements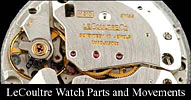 LeCoultre Watch Parts
Mido Watch Movements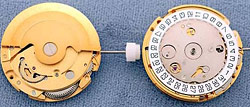 Chinese Made Mechanical Watch Movements

$108.00
Fontainemelon 59-21
| | | |
| --- | --- | --- |
| | Font 59-21 the classic 3 3/4 x 10 ligne, 9mm x 21mm, 17 jewels, shock protection, manual wind movement. This is the movement which is in thousands of Ladies diamond cases, and made the Fontainemelon name famous. Only a limited number of these movements are available. | |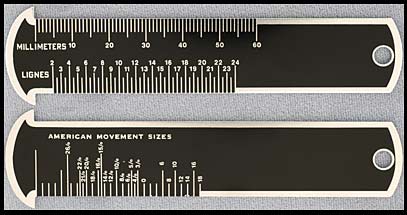 Movement Ligne and American Size Gauge
Gauge measures in watch lignes sizes and millimeters on one side, while the other side gives American watch movement sizes.

For measuring the diameter (0 to 60 mm) or the number of ligne sizes (2 to 24) of a movement. Length: 108 mm.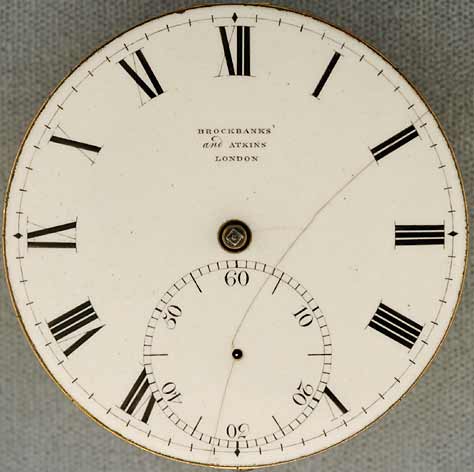 Used Brockbanks and Atkins London
The famous London based watch manufacturer Brockbanks & Atkins was originally founded around 1761 by the brothers John and Myles Brockbanks. This movement might have been made around 1820. In 12 years this watch could be 200 years old. The history of this watch and the original owner as way of those who acquired it later has to be an interesting un-told story. The watch has a good staff and looks in fine condition. Have a gold case made for it and then you would truly have a very special piece of time 19th century time keeping history in a 21st century watch case.





Fusee Movement with Chime Gong.


Diamond Balance Jewel and Balance Bridge looks to be made of gold.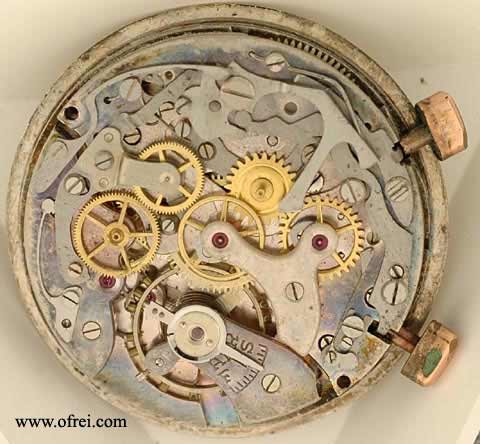 Used Landeron 51 Chronograph Movement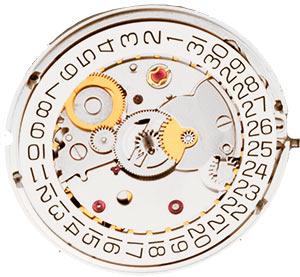 SELLITA SW200-1 Nickel Plated Swiss Made Clone of 2824-2 w/ Elaborate Escapement & Incabloc Shock
These standard finish nickel plated 26 jewels, 11.5 ligne movements with the Sellita elaborate escapement system with #1 quality pallet fork, escape wheel and deluxe Incabloc shock protection. The SW200-1 is an automatic, sweep seconds, day and date at 3 o'clock. Hand sizes 90/150/25, 28,800 BPH. Sellita movements are Swiss Made, the SW200, is a clone of the ETA 2824-2 which is possible to do since the patents have expired on the movement.


Incabloc shock system, 26 jewel movement.

Click here to download the Sellita SW200-1 technical sheet and oil chart.