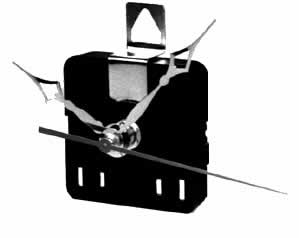 "AA" Cell Mini-Quartz Battery Clock Movements
Mini-size 2 7/32" x 2 7/32" x 5/8" Movements for 'AA" size batteries.


"C" Cell Quartz Battery Clock Movements
"C" Cell Quartz Clock Movements
2 11/16" x 2 1/4" x 1 3/16"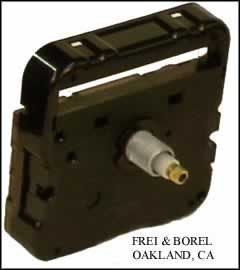 High Torque "AA" Cell Quartz Movement


Click Here For Kitchen Clock Plate Dials
Colorful Kitchen Clock Plate Dials for only $4.50!

Make your own Clocks by combiing them with a Battery Operated Quartz Clock Movement and a pair of hands.

Push-On Hands Quartz Clock Movements
Time And Tide Movement Quartz Clock Movement
Quartz Pendulum Clock Movements
Quartz Chime, Bell & Strike Clock Movements
Quartz Clock with Westminster Chime and Pendulum
Quartz Clock with Westminster Chime without Pendulum
Quartz Clock Dual Electronic Chime Movements
Round Mini Clock Movement
Radio Controlled Quartz Clock


Hands for Quartz Clock Movements
Click Here to See the Select of Hands for Quartz Clock Movements

Electric Quartz Clock Movement 3/8" Max. Dial Thickness
| | | |
| --- | --- | --- |
| | Operates on 110 volts/60HZ. UL listed, movement size 2 1/4 inch square. Brown cord is 6 feet long, which the maximum dial thickness is 3/8 inch (10 mm). Uses the standard I shaft hand for quartz movements, one pair of hands come free with the movement. Please select from the quartz hand list. Made in the USA. | |