Crystal Cement, Ultra-Violet Activated
| | | |
| --- | --- | --- |
| | This cement hardens when exposed to a UV light source. Best used to glue magnifying lens to mineral glass crystals, since it dries completely clear. Hardens when exposed to sunlight or a UV light. 2 ml bottle | |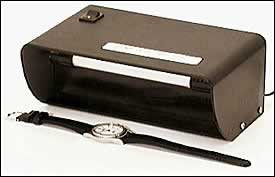 Ultra-Violet Lamp
Used for activating and curing ultraviolet glue and epoxy for crystal assembly such as setting of watch crystals and other jewelry repairs.
UV lamp for UV glue, always protect your eyes for the rays of the lamp. 110-127 volt, 60HZ, 8 Watts.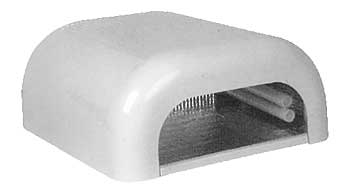 High Power 4 Bulb 36 Watts Ultra-Violet Tunnel Lamp
UV lamp for UV glue, but also suitable for fingernails and toenails (using the UV bulb for curing nail gel quickly).

This Ultra-Violet (UV) Lamp contains 4 UV bulbs, 9 watts a piece, total of 36 watts of UV lighting. Mirror tunnel interior for full capacity and balance lighting. 100V-120Volts 60Hz. Has timer with on/off switch for timer function. The timer control can be set to either 90, 120 seconds. Can also be used without the timer function. Wave length of highest peak at 370.um (wavelength is visible light and harmless to eyes, but DO NOT stare directly at bulb for this can cause eye damage. Overall dimension 215 x 240 x 100 mm. Opening is 150 X 53 mm.

GS Crystal Cement
| | | |
| --- | --- | --- |
| | GS crystal cement is designed to work with both plastic and glass watch crystals, and comes with a pin-point hypo needle applicator. | |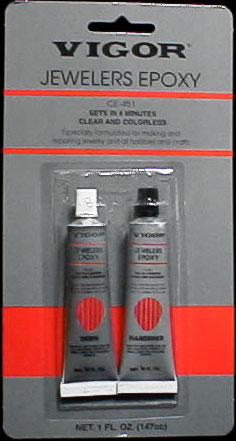 Vigor Jewelers Epoxy
| | | |
| --- | --- | --- |
| | Supper fast Jewelers Epoxy Sets in 4 Minutes and Maximum Strength is reached at One Hour! | |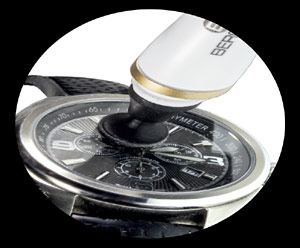 Bergeon Glass Pen 7971
This new pen with sockets in different shapes is ideal for cleaning watch glasses in the incoming as well as final quality control without touching the watch case. Can also be used for cleaning dials and hands without leaving any marks. Also very helpful on precious stones. It results a better brilliance of this materials after rubbing than any other cleaning cloths or swabs. Outside of the watchmaker branch, the pen can be used for cleaning the loupes. Equipped with the 7971-A Round Concave Tip for domed crystals.

Click here for a demo of item.

Bergeon Glass Pen 7971-MINI
| | | |
| --- | --- | --- |
| | Equipped with the 7971-MINI-C Round Flat Mini Sized Tip for cleaning flat crystals, hands, and dials. | |
Round Concave Replacement Tip for 7971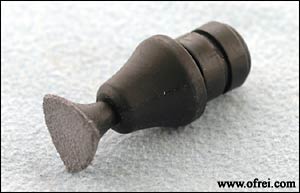 Triangular Flat Replacement Tip for 7971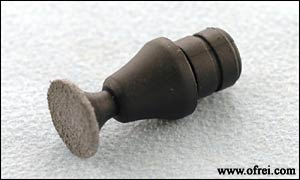 Round Flat Replacement Tip for 7971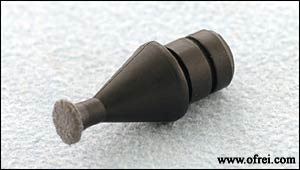 Round Flat Mini Sized Replacement Tip for 7971
| | | |
| --- | --- | --- |
| | Diameter of tip is about 5 mm. | |

Inexpensive Glass Pen
| | | |
| --- | --- | --- |
| | Comes with standard brush and 12 mm diameter round concave tip. Great for lens, watch crystals, and dials. | |

Inexpensive Mini Glass Pen
| | | |
| --- | --- | --- |
| | Comes with small sized brush and 7 mm diameter round concave tip. Great for lens, watch crystals, and dials. | |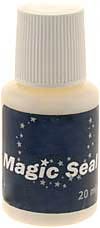 Magic Seal
A horological sealing compound for ensuring a perfect final sealing film between: 1) watch case backs and cases. 2) watch glasses and cases.

The Magic Seal leaves a protective, rubbery seal. Guarantees perfect seal to prevent dust, humidity entering the watch.

The item is inert, non-toxic, non-corrosive. Completely colorless, invisible after drying. Can be used on any type of case and glass. Rapid and easy application with built-in brush. Ideal for antique and vintage watches especially square or rectangular shapes. Economical, long lasting, shelf life many years if properly closed.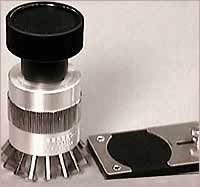 Bergeon 4266 Crystal Lift
| | |
| --- | --- |
| | Bergeon crystal lift for removing and installing any plastic crystal without tensioning ring. Jaws open from 10 mm to 45 mm. Removes and inserts immediately, crystals without dis-assembling the watch. Will not damage the crystal. |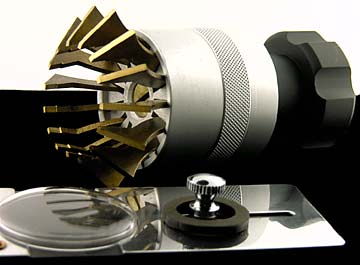 Economy Crystal Lift
Another decent made in India tool. This crystal lift realy does work, however not as high tech as the Bergeon model. Supplied we a spare washer shown on the positioning plate. The tool has a washer inside it that acts like a rubber band holding the jaws in place.

Use to remove and insert the very popular WEC & PHD style domed plastic crystals without tension rings.

Bergeon Supplied Bundle of Peg Wood 3mm
Small.

Name of the wood : Hornbeam, Scientific name : Carpinus betulus, Country of Harvest : France
Bergeon Supplied Bundle of Peg Wood 4mm
Medium.

Name of the wood : Hornbeam, Scientific name : Carpinus betulus, Country of Harvest : Germany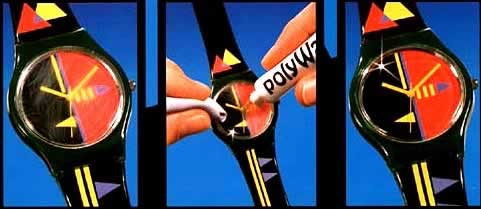 PolyWatch Plastic Crystal Polish Two Tubes
| | | |
| --- | --- | --- |
| | Removes scratches from plastic watch crystals. Apply a small amount and polish with a cotton cloth. Two tubes for the price of one, with a suggested retail of $6.95 to $9.95 per tube. | |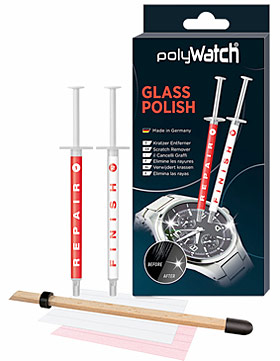 PolyWatch Glass Polish Kit
Removes small and medium scratches from watch crystals made of real glass. Versatile use: watches, smartphone, car, furniture, household, window, etc. (do not use for eyeglasses or optical lenses, coated surfaces, and Tablet PCs.)

Features a 2-Component-System: Step 1 - the High-Tech Diamond "Repair-Polish" removes the scratches. Step 2 - the "Diamond Finishing-Polish" polishes to a high gloss. This kit will help save money from expensive repairs. Suitable for all glass qualities. For approx. 30 to 40 applications.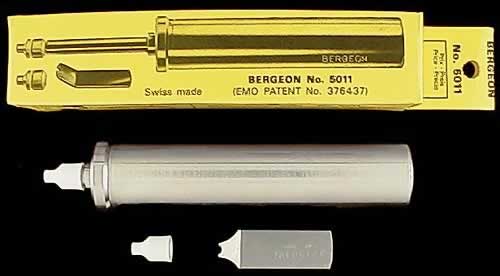 Bergeon 5011 Air Pump
Sometimes the case back does not screw off or snap off and the only way to gain entrance to the watch movement is thru the crystal. The watch would then have what is know as a two-piece stem and crown and after you removed the crown you just insert this pump into the hole and pump away until the plastic crystal pops off the case.

To Remove crystals quickly and safely. Available with 3 heads: diameter at 1.60, 2.00, and 2.50mm. 1 key for removing the half-stem with the crown.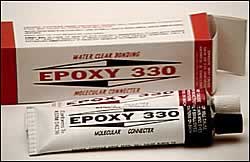 Epoxy 330
| | | |
| --- | --- | --- |
| | Epoxy 330 is fast and strong, great for glass watch crystals and is used for repair and stone setting by Jewelers as well. Thickens is 15 minutes and hardened in 2 hours. | |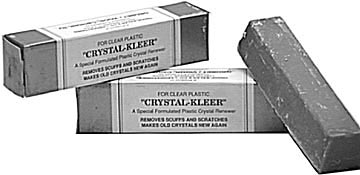 Crystal Kleer Professional Crystal Compound
| | | |
| --- | --- | --- |
| | This is what the pros use and scratches on plastic crystals are removed in seconds, when it is applied to a buffing wheel and lightly buff. Extreme care must be used and if you have an emotional attachment to the watch, then this is not a product for you. Only use on a bench top buffing wheel and with the crystal still in the case using two hands gently place in front on the outer hairs of the fast spinning buffing wheel for just a few seconds. Too much pressure and you will burn a hole in the crystal this also only takes a second to happen. If is not advised to use a Dremel type hand tool, since all it takes is one slip and the crystal is destroyed. | |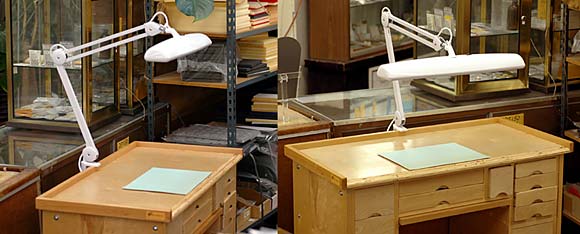 $79.95 $66.89 On Sale!
High Power Energy Efficient Fluorescent Desk Lamp
Every Watchmaker's work bench should have one of this lamp. It gives more than enough light to cover your benches surface.

It uses three T5 14W fluorescent light bulbs, comes with electronic ballast and On/Off switch. The dimension of the piece are 91cm (35.8 inches) arm length, 61cm (24 inches) head length, and 11cm (4.3 inches) head width. The color is white and uses 110V/60Hz voltage.
Replacement T5-14W-6400K 21-1/2" Long Fluorescent Bulb for Desk Lamp FB-13.110

Watch Crystal & Case Back Protection Pads - Masking Sheets & Rolls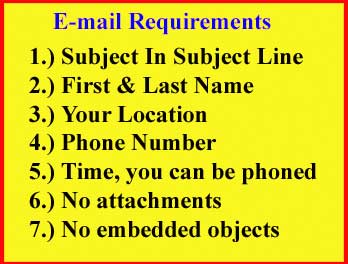 Your cooperation is appreciated.