Replacement Blade for FB-510, 1.00MM
$2.50
6670-M-100


Replacement Blade for FB-510, 1.40MM
$2.50
6670-M-140


Replacement Blade for FB-510, 1.80MM
$2.50
6670-M-180


Replacement Blade for FB-510, 3.00MM
$2.50
6670-M-300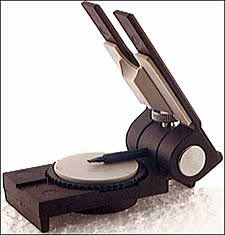 Bergeon 6670 Watch Bracelet Holder with three Screwdriver Blades
Great, Bregeon tool for unscrewing screws in watch bracelets.


Adjustable turning table that can be set at different heights. Only from Otto Frei is this tool suppled with a 1.00, 1.40 and 1.80 millimeter screwdriver blades.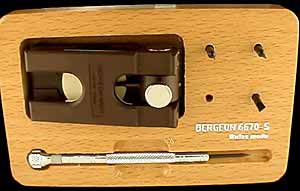 Bergeon 6670-S Watch Bracelet Holder W/Screwdriver & Four Blades
Hand Vise for Screwing and Unscrewing Bracelets, on a wood block with one screwdriver and four screwdriver blades for the hand vice in 1.0, 1.4, 1.8 and 3.0 mm.

To screw and unscerw bars of bracelets and links of any thickness. Tool fitted with a turning table which can be adjusted in height on 3 levels 0 - 0.5 - 1.0 mm, enabling to position the bracelet screw in the axis of the blade. Blade with flat parallel sides. Watch case and bracelet are well protected with cushions. Easy to use. Wooden stand measures 120 x 80 x 15 mm.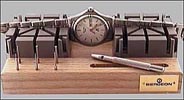 Watch Bracelet Tools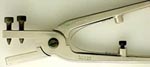 Watch Strap Tools